G-20: From Turkey to China, taking stock and looking forward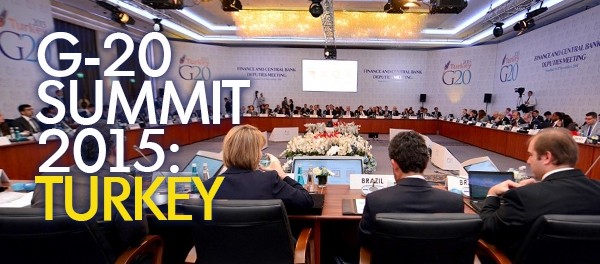 On 11 November 2015, SAIIA held a media briefing on 'The G-20: From Turkey to China – taking stock and looking forward' to review developments and successes achieved under the Turkish Presidency, notably in relation to its impact on developing countrie …
G-20: From Turkey to China, taking stock and looking forward Read More »
On 11 November 2015, SAIIA held a media briefing on 'The G-20: From Turkey to China – taking stock and looking forward' to review developments and successes achieved under the Turkish Presidency, notably in relation to its impact on developing countries.
The 2015 G-20 summit will be held in Antalya, Turkey, on 15-16 November 2015. Turkey officially took over the presidency of the G-20 from Australia in December 2014 and China will preside over the organisation from December 2015.
While the overall agenda of the G-20 is pertinent to global affairs, the inclusion of SMEs and LIDCs in the Turkish agenda has significant relevance to Africa. The briefing also looked forward to what the Chinese Presidency might bring in 2016, exploring how Beijing will build on past G-20 efforts and likely additional priorities for the 2016 agenda.

SAIIA Resources:
Policy briefing: The G-20 and Development: Ensuring Greater African Participation
Policy insight: Turkey and the G-20 Presidency: Implications for LIDCs and Africa
Speech: Turkey and the G20 Presidency: Implications for Africa
Speech: G20 Study Group session on 'Taxation and the G20'
Speech: The G20 and the post-2015 Development Agenda
See all SAIIA work relating to the G-20 here
Background to the Summit
2015 marks the tenth G-20 Summit. Representing 90% of the world economy, 80% of world trade and 2/3 of the world population, the G-20 has today emerged as the premier forum for international economic co-operation and has provided much-needed focus and energy at a critical time for the global economy.

In 2008, the world experienced a new and unprecedented wave of economic and financial crisis, which affected the most robust economies as well as the more fragile ones. G-20 members were called upon to strengthen international co-operation in order to tackle this new crisis. G-20 Leaders convened for the first time in November 2008 in Washington to deal with the crisis, restore global growth and initiate necessary reforms in the financial markets.
The G-20 takes up a wide range of issues related to the global economy such as development, energy security, infrastructure development, climate change, employment, eradicating poverty, combating corruption, food security. The G-20 also focuses on reform and reconfiguration of the global economic and financial system in line with today's realities.
The G-20 does not have a permanent secretariat. The presidency rotates between member countries; and each presidency establishes a temporary secretariat or task force for the duration of its term to coordinate the group's work and manage its meetings. The decisions taken in the G-20 Summits are considered instructive in general for the next term presidency. In order to ensure continuity and consistency in the agenda, the Troika System – which coordinates past, future and current presidencies – was formally adopted at the Cannes Summit.


List of G20 priorities:
G-20 Presidency and Date
Priorities / Issues from Summit
United Kingdom
London Summit
November 2009
Coordinated fiscal and monetary stimulus measures to avert threat of global depression;
Additional resources for the IMF and multilateral development banks to weather the financial crisis;
Established Financial Stability Board
Republic of Korea
Seoul Summit
November 2010
International Financial Institution Reforms
Financial Sector Reforms; Fighting Protectionism/ Promoting Trade and Investment;
Financial Inclusion;
Seoul Development Consensus for Shared Growth
Energy; Climate Change and Green Growth;
Call for business summit and consultation
France
Cannes Summit
November 2011
Food security
Infrastructure
Establishment of the Agricultural Market Information System
Mexico
Los Cabos Summit
November 2012
Food security
Infrastructure
Inclusive green growth
Russia
St Petersburg Summit
November 2013
Food security
Infrastructure
Financial inclusion
Human resource development
Australia
Brisbane Summit
November 2014
Policy coherence between DWG and Taxation,
Investment in infrastructure
Launch of Global Infrastructure Hub;
Anti-corruption, employment
Energy
Trade
Turkey
Antalya Summit
November 2015
Inclusiveness, investment and implementation;
Cross-cutting themes of SMEs and Low Income Developing Countries;
Climate Change
Source: G-20 Summit pages; Grant Makokera, Forthcoming SAIIA Occasional Paper; Sahbaz & Inan, SAIIA Policy Insight 19

SAIIA Expertise available
Please note that SAIIA can field limited media interviews on this topic, but our communications division will endeavour to assist the media as far as possible.

For more information or to arrange for interviews please contact:
Hopewell Radebe
SAIIA Communications Manager
Tel: +27 (0) 83 582 1734
Email: media@saiia.org.za