It is hoped that this set of carefully curated articles will stimulate reflection, critical thought and debate on Africa's responses to terrorism.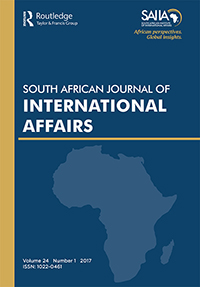 The introductory paper, by guest editors Sven Botha and Suzanne Graham of the University of Johannesburg, sets out key developments in the field as a new decade dawns. Next, Kayla Arnold interrogates how epidemics have been used by terrorist organisations to further their objectives, with a focus on the threat to vaccination campaigns; Vesna Markovic looks at the difficulties of disrupting terrorism financing generally, and particularly in Nigeria and Somalia; and Stephen Buchanan-Clarke considers South Africa's role in responding to international terrorism, with a focus on developments in Southern Africa.
Other articles include a study by Daisy Muibu, based on empirical data from Kismayo (Somalia), examining public perceptions of police militarisation and how they affect public support for police empowerment, and an exploration by Emeka Njoku and Joshua Akintayo of terrorism's role in the sex economy and sexual violence in north-eastern Nigeria. Two other papers look at national responses to terrorism in Kenya (Juliet Kamau) and Nigeria (Sven Botha). Finally, Monday Hassan theorises on the resilience of Boko Haram. The issue also includes five book reviews.
Original Articles
(Counter-)terrorism in Africa: Reflections for a new decade
By Sven Botha and Suzanne Graham
The epidemic–terrorism nexus and how to safeguard Africa against bioterrorism: Lessons from the Global Polio Eradication Initiative?
By Kayla Arnold
Fighting a losing battle? Countering terrorism financing in Nigeria and Somalia
By Vesna Markovic
Strengthening South Africa's response to the threat of international terrorism
By Stephen Buchanan-Clarke
Is counterterrorism counterproductive? A case study of Kenya's response to terrorism, 1998-2020
By Juliet Kamau
Police empowerment and police militarisation in times of protracted conflict: Examining public perceptions in southern Somalia
By Daisy Muibu
The women and girls associated with Boko Haram: How has the Nigerian government responded?
By Sven Botha
Sex for survival: Terrorism, poverty and sexual violence in north-eastern Nigeria
By Emeka Thaddues Njoku and Joshua Akintayo
Explaining the resilience of Boko Haram's insurgency in the Lake Chad Basin
By Monday Zitta Hassan
Book Reviews
Extremisms in Africa (Volume 3)
Reviewed by Anthoni van Nieuwkerk
Unmasking Boko Haram: Exploring Global Jihad in Nigeria
Reviewed by Imrana Buba
Female Fighters: Why Rebel Groups Recruit Women for War
Reviewed by Cori Wielenga
War and Peace in Somalia: National Grievances, Local Conflict and Al-Shabaab
Reviewed by Tertius M Jacobs
Targeting Top Terrorists: Understanding Leadership Removal in Counterterrorism Strategy
Reviewed by Ayse D Lokmanoglu
Reply
Response to review of Africa First! Igniting a Growth Revolution
By Jakkie Cilliers