'Digital diplomacy', also referred to as virtual diplomacy, e-diplomacy, and cyber diplomacy, is the intersection of Information and Communication Technologies (ICTs) and diplomatic practice. In the 21st century, digital diplomacy has grown to become a major interdisciplinary area for both diplomatic practitioners and academics. However, this phenomenon is understudied in Africa. This special issue addresses this research gap by focusing on the concept and practice of digital diplomacy from an African perspective, to underscore the implications of the changing nature of diplomacy on the continent.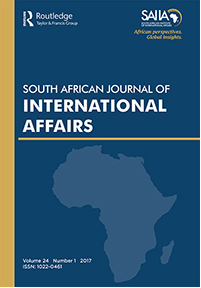 The introductory paper, by guest editors Bob Wekesa (University of the Witwatersrand), Yarik Turianskyi (SAIIA), and Odilile Ayodele (University of Johannesburg), frames the special issue by delineating three areas within digital diplomacy in Africa. Next, Lesley Masters argues that conceptualising digital diplomacy as the governance of digital technologies is a useful lens for analysing the Fourth Industrial Revolution in Africa, while Odilile Ayodele looks at the implications of digital diplomacy for continental governance under the African Union.
Focusing on various African states, Ilan Manor and Geraldine Asiwome Adiku's study discusses digital diaspora diplomacy by African diplomats, and Floribert Endong analyses how the governments of Cameroon and Nigeria have responded to online separatists' digital diplomacy. Cliff Mboya examines the use of social media diplomacy by the Kenyan government amidst the COVID-19 crisis, and Ellison Shumba discusses China's 'Wolf Warrior' diplomacy in Africa via social media platforms. The issue also includes five book reviews, including a review by Faten Aggad-Clerx of Lina Benabdullah's Shaping the Future of Power: Knowledge Production and Network-Building in China-Africa Relations.
Editorial
Introduction to the special issue: Digital Diplomacy in Africa
By Bob Wekesa, Yarik Turianskyi and Odilile Ayodele
Original Articles
'African Digital Diplomacy: Emergence, Evolution, and the Future'
By Yarik Turianskyi and Bob Wekesa
Africa, the Fourth Industrial Revolution, and digital diplomacy: (Re)negotiating the international knowledge structure
By Lesley Masters
The digital transformation of diplomacy: Implications for the African Union and continental diplomacy
By Odilile Ayodele
From 'traitors' to 'saviours': A longitudinal analysis of Ethiopian, Kenyan and Rwandan embassies' practice of digital diaspora diplomacy
By Ilan Manor and Geraldine Asiwome Adiku
Kenya's digital diplomacy amid COVID-19: New tools in an old toolbox?
By Cliff Mboya
The 'dark side' of African digital diplomacy: The response of Cameroon and Nigeria to separatists' online propaganda
By Floribert Endong
An investigation into 'Wolf Warrior' diplomacy in Africa via Twitter and Facebook at the height of the COVID-19 pandemic
By Ellison Shumba
Book Reviews
Shaping the Future of Power: Knowledge Production and Network-Building in China-Africa Relations, by Lina Benabdullah 
Reviewed by Faten Aggad-Clerx
Toxic Politics: China's Environmental Health Crisis and its Challenge to the Chinese State by the Council of Foreign Relations' Yanzhong Huang
Reviewed by Olivia Cheung
Africa-China Cooperation: Towards and African Policy on China edited by Philani Mthembu and Faith Mabera
Reviewed by Daniel Munday
Regional Economic Communities and Peacebuilding in Africa: Lessons from ECOWAS and IGAD edited by Victor Adetula, Redie Bereketeab and Cyril Obi
Reviewed by Darlington Tshuma
Sanctions with Chinese characteristics: rhetoric and restraint in China's diplomacy by Angela Poh
Reviewed by Iryna Bogdanova