Other articles focus on the coloniality of power within globalisation, migration in the ECOWAS region, the legal onus to combat xenophobia under South African investment law, and the responses to the COVID-19 pandemic from ECOWAS and SADC. The issue also includes five book reviews, including a review of Klaus Dodds' Border Wars: The Conflicts that Will Define Our Future by Bhaso Ndzendze.
Articles
Globalisation and the challenge of coloniality of power
By Jonathan O. Chimakonam and Maduka Enyimba
Examining the effectiveness of EU security-development strategy in tackling instability in the Sahel: The case for an alternative strategy?
By Norman Sempijja and E Eyita-Okon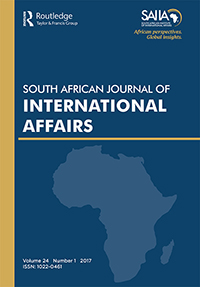 Local Hero? Introducing the Regional Organizations Security Activity Dataset for Africa (ROSADA)
By Ingo Henneberg
The (in)formality of mobility in the ECOWAS region: The juxtapositions of free movement
By Franzisca Zanker, Kwaku Arhin-Sam, Amanda Bisong, Leonie Jegen and Harouna    Mounkaila
Investment law and South Africa's duty to combat xenophobic attacks on migrant owned spaza shops
By Louis Koen
The COVID-19 pandemic and regional integration in Africa: Implications of the responses from ECOWAS and SADC  
By Edwin Yingi and Promise Hlungwani
Book Reviews
Border Wars: The Conflicts that Will Define Our Future by Klaus Dodds
Reviewed by Bhaso Ndzendze
National Security Review of Foreign Investment: A Comparative Legal Analysis of China, the United States and the European Union by Cheng Bian
Reviewed by Anqi Wang
Expensive Poverty: Why Aid Fails and How it Can Work by Greg Mills
Reviewed by David Bridgman
International Economic Law: (Southern) African Perspectives and Priorities edited by Kholofelo Kugler and Franziska Sucker
Reviewed by Azwimpheleli Langalanga
Illicit Financial Flows from South Africa: Decolonial Perspectives on Political Economy and Corruption edited by Serges Djoyou Kamga
Reviewed by Leezola Zongwe