An astounding number of more than 300 students attended this year's event, including a 60-member delegation from the University of Pretoria. Students also attended from the University of the Witwatersrand, University of Johannesburg, University of South Africa and St Augustine's College.
You can read the live tweets shared on the night.
You can also see all the photos from the night, captioned with quotes and insights from the speaker talks.
The main aim of the SAIIA-KAS Careers Evening is to provide a platform for university students in International Relations, Political Studies, Economics, Law and Journalism to get a better understanding of the career and scholarship opportunities that are available to them in their various fields. To accomplish this, exhibitors and speakers from diverse sectors were invited.
This year's exhibitors provided information on job opportunities, internships, scholarships and exchange programmes as well as an assortment of insightful reading materials such as books and journals on African peacekeeping missions and sustainable development to brochures on the work carried out by embassies, government departments and think tanks.  Some of the exhibitors included: KAS, the British High Commission, the Embassy of France, the Canadian High Commission, the Embassy of the United States of America, the Institute of Security Studies (ISS), the New Partnership for Africa's Development (NEPAD), Médecins Sans Frontières (MSF) the Department of International Relations and Cooperation (DIRCO), the Wits International Office (WIO) and the jointly managed SAIIA-CIGI African Portal. However, it was the speakers that attracted the sizeable crowd and they did not disappoint. The speakers were all young professionals who excel in their respective fields.
This year's speakers were:
Ms Sithembile Mbete, Lecturer at the University of Pretoria and former Assistant Researcher – National Planning Commission Secretariat in the South African Presidency.
Ms Darshana Pema, Senior Development Officer, Canadian International Development Agency based in Pretoria
Dr Lucy Corkin, Mining Resources and Commodities Credit Analyst (Class of Programme), Rand Merchant Bank
Mr Eusebius McKaiser, Talk show host at Power FM, social and political commentator, academic and author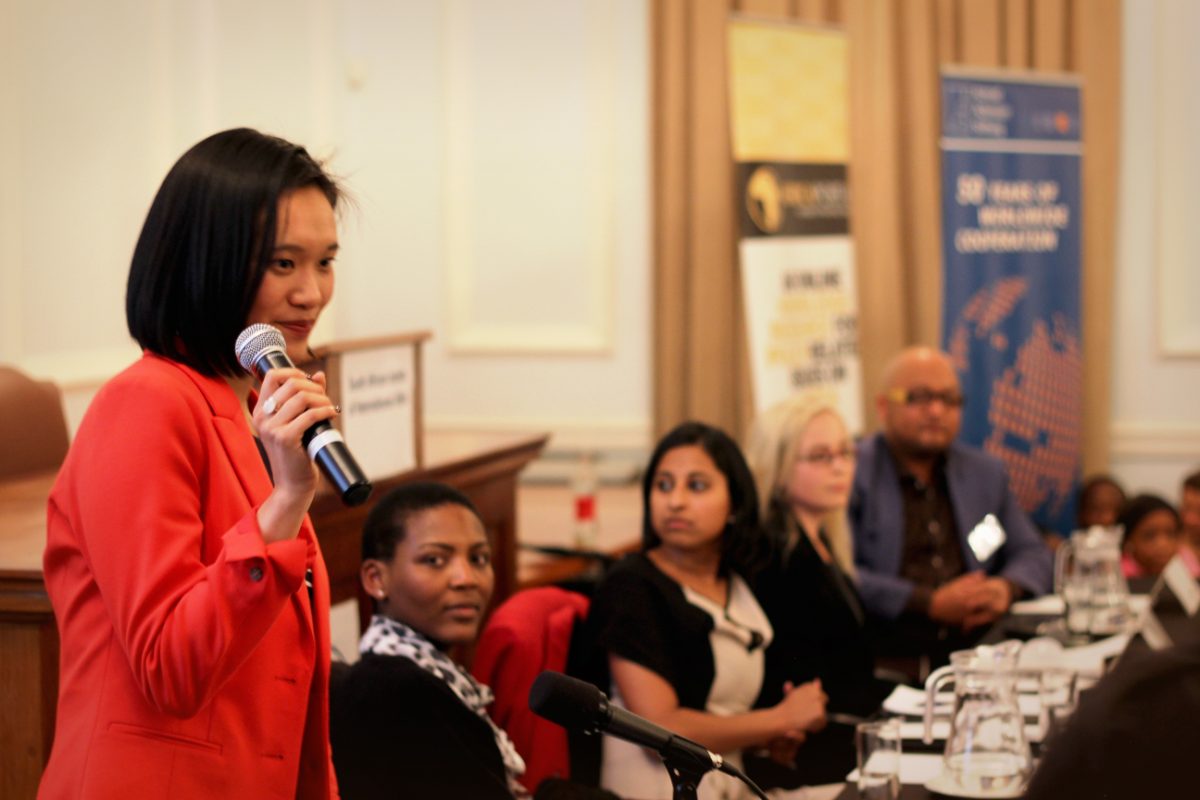 The four speakers took a range of questions from the audience afterwards. More photos
The first speaker, Sithembile Mbete, walked the audience through a few defining moments in her career. She spoke of her years as a Social Science student at the University of Cape Town. This was followed by her experience in France where she taught English and, as she shared with the audience, realised how difficult it was 'to open a bank account in a foreign country'. When she returned to South Africa she joined the Institute for Democracy in Africa (IDASA) where she worked for the 'Right2Know' campaign. She volunteered for what she calls 'the grunt work'; the work no-one else really wanted to tackle. She became the 'note-taker' who sat in parliamentary meetings and listened to discussions that few others could. This 'grunt work' paid off when she became an integral member of the official campaign against the SA government's Protection of Information Bill (now legislated).  She later joined the National Planning Commission in the South African Presidency but recently returned to her original passion, academia, at the University of Pretoria.
Sithembile's account included detailing her involvement in many organisations, vacation work and tutoring as a student. These experiences equipped her with essential skills to advance her career and more importantly, gave her the opportunity to build her own professional networks. She also emphasised the importance of internships or teaching abroad because they also help build crucial networks and provide opportunities to gain experience, expertise and awareness of other cultures.
Darshana Pema, the second speaker, provided a stimulating presentation structured along several guidelines to building a career. Her first tip was for the students to 'find your passion and follow it'. Darshana quoted G.W.F. Hegel, saying 'Nothing great has been and nothing great can be accomplished without passion'. Darshana told a story of how most of her family members are accountants and how that was an expectation she was meant to fulfill; however her passion took her elsewhere. She travelled to Saskatchewan province in Canada as part of an exchange programme. One of her memories is how it was below 25 degrees Celsius and snowing when she arrived in the Canada; quite an experience for someone who had never seen snow before then. She later went on to do her Master's degree at the London School of Economics where she could engage with many of the scholars whose texts she only read in textbooks. She urged students to broaden their horizons and to invest their time in developing new skills because the world is constantly changing.
Echoing Sithembile Mbete's experiences, she too highlighted the value of networking through travelling or enrolling in training, voluntary or exchange programmes. She also advised the audience to keep an eye out for graduate recruiters at the various universities. Darshana pointed to the fact that gaining experience was essential and this could be achieved through internships. She added that internships are a great way of experiencing a particular working environment without a long term commitment since you are not obliged to sign a contract over a long period of time. Her parting shot was to encourage students to 'take risks, make mistakes and learn from them'.
The third speaker, Dr Lucy Corkin, gave an account of how her studies and research in International Relations and Politics led to her recruitment by Rand Merchant Bank's prestigious 'Class of Programme'. She is one of the leaders in her field and she speaks 5 languages including English, Portuguese, French, Afrikaans and Mandarin. Her journey was an 'interesting one' having worked and studied in different sectors before taking up her current position at Rand Merchant Bank. After graduating with her Master's degree she applied for 'just about every job I thought I was qualified to do'. She landed her first job in Public Relations which was all good and well except that it was for the late South African mining magnate, Brett Kebble. She was part of his PR team when he was assassinated in September 2005. His death would later have far-reaching political and criminal ramifications. In 2008 she received the First National Bank Laurie Dippenaar Award for international post-graduate study. In 2011, she completed her PhD at SOAS, University of London on Chinese public infrastructure financing in Angola. This work was later published as 'Uncovering African Agency – Angola's management of China's credit lines' in 2013.
Lucy Corkin's encouraged the audience to investigate opportunities in the investment banking sector because opportunities abound for graduates with non-traditional finance backgrounds. 'We (those with a social sciences background) think differently. There are a range of options for us humanities graduates … such as in political risk for example' she explained.  She noted that a social sciences background gives one the flexibility that allowed her to set and think about her own career path. She also advised building one's skill set and on a different take on Darshana Pema advice, encouraged students to 'tweak your passion to match your skill set'.
The last speaker of the evening was the well-known radio personality Eusebius McKaiser. He decided that his speech would echo so much of what had gone before, that he would do a summary and build on what the previous speakers had said. An important message that he emphasised was 'striving for academic excellence in everything you do'. He is a man that wears many hats: he is an academic, an author, television presenter, radio talk show host and a world class champion debater. All this makes him a 'professional hustler' he told the crowd who responded with roaring laughter and applause.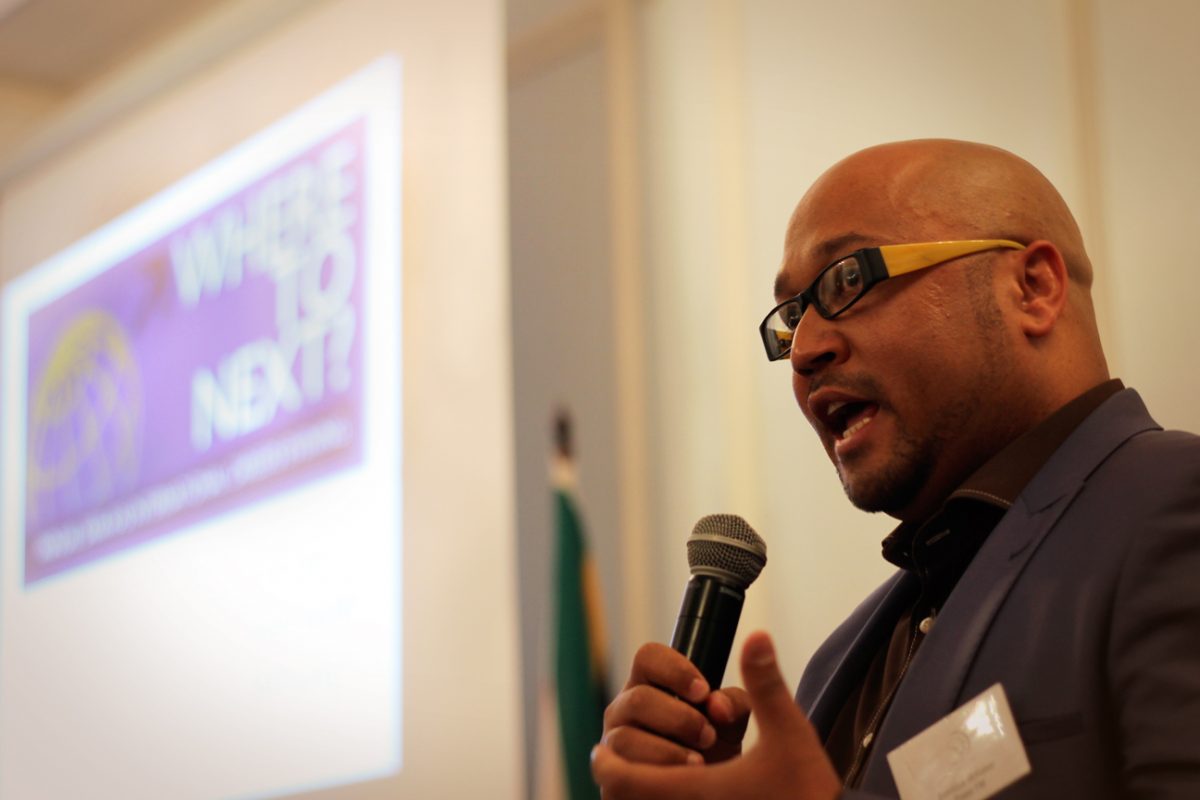 Speaker Eusebius McKaiser kept the audience entertained with his signature speaking style. More photos
Eusebius traced his career from his poor upbringing in the Eastern Cape where he says 'nobody speaks like I do here'. He reiterated the importance of striving for academic excellence, which he says was his way to further his education overseas. Academic excellence saw him earn the Rhodes scholarship and took him all the way to Oxford University in the United Kingdom where he read Philosophy and Epistemology. He later went to work for the global management consultancy firm, McKinsey & Company. That is where he encountered "that green button at the bottom of the computer screen …which I now know is called [Microsoft] Excel." Despite the challenges, he was able to adapt and learn from each of his choices and experiences which set him up for the next experience. He encouraged students not to exclude themselves from various academic scholarship opportunities and to take every opportunity they can.
The annual SAIIA-KAS careers evening was organised by this year's SAIIA-KAS scholars: Gillian Chigumira, Matshaba Mothiane and Rebecca Ramsamy. The SAIIA-KAS scholars would like to thank the speakers for offering their valuable time to attend the event. We would also like to thank SAIIA and the Konrad Adenauer Stiftung for their joint collaboration in making the event possible. Thank you also to our exhibitors who braved peak-hour traffic jams to speak to the students!
Gillian Chigumira is a SAIIA-KAS scholar for 2013. She is a Master's student focused on Development Economics and Policy Making at Wits University.
Date: 14 August 2013
Time: 17:00 – 20:30
Venue: South African Institute of International Affairs, Jan Smuts House, WITS, East Campus
If you would like to follow up on any of the opportunities mentioned that night, or any of the exhibitors present, please contact careers2013@saiia.org.za.
You can also follow the SAIIA-KAS Careers Evening on Facebook or Twitter for regular updates.