As custodian of 90% of the world's remaining rhino's, it is imperative that South Africa reverse the recent trend, depicted in the chart below. The Department of Environmental Affairs has invited stakeholders to participate in the work of the committee.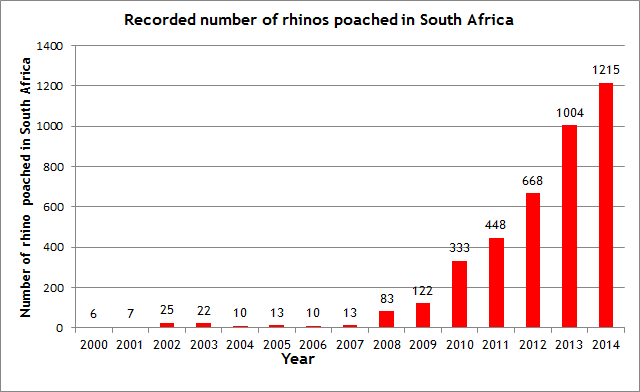 Source: Department of Environmental Affairs, 2015.
After consulting with invited stakeholders, the committee will submit a set of recommendations to an Inter-Ministerial Committee. This work will inform South Africa's position ahead of the 17th Conference of Parties of the Convention on International Trade in Endangered Species of Wild Fauna and Flora (CITES) in 2016.
SAIIA Submission to Committee of Inquiry to deliberate on matters relating to a possible trade of Rhino Horn
Minister Edna Molewa has insisted that the committee will not be swayed by anyone with vested interests in either outcome. The terms of reference under which the committee operates are quite broad, but importantly cover questions of potential market responses to a legalised trade in rhino horn.
Under this particular theme, SAIIA has chosen to present a submission that focuses on three tasks. First, it surveys the general arguments made in favour of a regulated trade in rhino horn. Second, it interrogates the probability of the necessary conditions being met in reality for such a trade to succeed in preserving the rhino population. Third, it discusses some of the hidden assumptions inherent in these debates. Given the extent of the unknown quantities, and the irreversible consequences of unintended results, we suggest that the committee should proceed with caution in considering a regulated trade in rhino horn.
SAIIA_Submission_to_Committee_of_Inquiry_deliberating_trade_of_Rhino_Horn.