In what is to be the largest gathering ever on the issue, representatives of governments, UN agencies, NGOs and civil society convened from 10 to 13 June 2014 at the summit co-chaired by British Foreign Secretary William Hague and actress and UNHCR Goodwill Ambassador Angelina Jolie.
A delegation of 40 high school learners and university students from the South African Institute of International Affairs (SAIIA) youth programmes presented a South African Youth Communiqué to British High Commissioner Judith Macgregor in Pretoria. The Communiqué expressed the position of youth on Ending Sexual Violence in Conflict, a crucial issue affecting millions of men, women and children internationally.
Click here to read the 2014 South African Youth Communiqué on the prevention of sexual violence in conflict.
The South African Youth Communiqué on the prevention of sexual violence in conflict was the result of input from over 100 learners and students from around the country who participated in two special Youth@SAIIA Model United Nations debates, co-hosted with the British High Commission in May. These special conferences focused on the ending and prevention of sexual violence in conflict, and involved 16 high schools and students from three universities in Gauteng (held at Pretoria High School for Girls) and 10 high schools and students from three universities in the Western Cape (held at Rhenish Girls' High School).
According to Desirée Kosciulek, Youth Development Officer at SAIIA, both of these special Model United Nations conferences were addressed by High Commissioner Macgregor. The Gauteng conference was also addressed by Dr Syed Sadiq, the Deputy Representative and Officer-in-Charge at UN Women, Southern Africa Multi-Country Office. The conference in Stellenbosch was also addressed by Patrick Kawuma Male, Head of Office for the United Nations High Commissioner for Refugees (UNHCR).
"Despite this being exam month, we had many leaners participating in the debates via Twitter and Facebook. In fact, the learners were able to complete the Communiqué – which combined the input from the two conferences – using social media platforms," she explained.
She added that the learners and students, most of them participants in various model UN conferences organised by SAIIA in the past, were thrilled to see their work being incorporated as the voice of the South African youth in the global summit in London.
Ms Kosciulek said the presentation to Mrs Macgregor was made by Wits university first-year student Maryam Elgoni who has been a participant in the Youth@SAIIA Model United Nations debates and conferences since high school. Ms Elgoni and her delegates used the occasion to also mark youth month.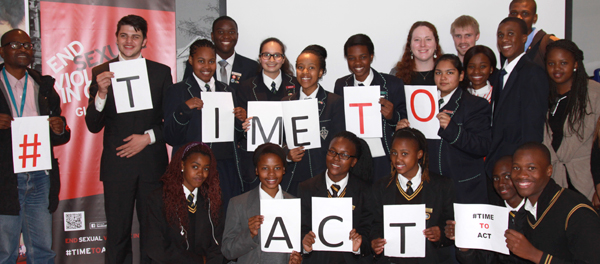 The South African Youth Communiqué recommended that the world must exercise zero tolerance towards perpetrators of sexual violence; unequivocally promote the inclusion of non-governmental and civil society organisations in post-conflict rehabilitation and policy formulation; ensure that preventing and ending sexual violence in conflict is incorporated into the broader Post-2015 Development Agenda; as well as establish and advance existing international youth platforms to raise awareness and to involve young people in the prevention of sexual violence.
Ms Kosciulek said the communiqué represented enormous personal growth for participants in the programme to be able to tackle such challenging topics and also signalled their preparedness to be part of the generation seeking solutions to global difficulties. "These young adults impressed all in attendance at the British High Commission in Pretoria, and our events were featured at the Global Summit," she said.
According to British Foreign Secretary Hague, the use of sexual violence in war is "one of the great injustices of our lifetime".
"It is hard to document, let alone investigate. Perpetrators do not discriminate, because it's not about sex, but violence, terror, power and control. When rape is committed during conflict, it has often been seen as an inevitable part of war, and so it has been allowed to go unpunished. But even war has rules. So, just as the world could agree that land mines have no place on the battlefield, the world must agree to end sexual violence in conflict."
Mr Hague launched the first International Protocol on the Documentation and Investigation of Sexual Violence in Conflict at the Summit.
High Commissioner Macgregor told the youth delegation that she enjoyed attending both the Model UN debates on Sexual Violence in Conflict in Pretoria and Stellenbosch. "This is an incredibly important subject and your professionalism in managing the topic was outstanding … I found your passion and involvement on sexual violence in conflict very moving.
"The Global Summit to End Sexual Violence in Conflict started on 10 June. It will be a Summit like no other, because sexual violence is a crime like no other. Women and men are made to suffer its horrors in conflicts around the world, and shocking as it may seem, many victims are very young girls and boys.
"Sexual violence carries a corrosive after-effect that lasts a lifetime: an unjust and destructive shame for the victims and their families. But we firmly believe that this can – and must – change," she said.
She added that the Global Summit wanted to see governments announce their support for the Protocol. "We want them to ensure their national laws on rape and sexual violence are in line with international standards. We want to address the role the military can play and ensure that people are properly equipped and trained to deal with this sensitive problem."
She warned that government action alone was not enough and called on every family and community to change the culture that stigmatises survivors and to be united in their abhorrence for these crimes, "so that any man with a gun will think twice before ordering or committing rape".
As part of SAIIA's 80th anniversary, we are launching a drive to bring crucial youth development activities to more high-school learners across the country. Click here to learn more.