The 220 participating learners answered a series of challenging questions on international affairs, focusing in particular on South Africa's relations with the rest of the world. Learners prepared by reading the Cape Times for two weeks in March, copies of which were generously donated by the paper to participating schools.
Prof Denis Goldberg provided a moving keynote address on the theme of 20 years of freedom, recalling his time in prison as a leading member of the anti-apartheid struggle. "For sixteen years we were not allowed access to news of any kind," he told learners. "We had such a hunger for it… That the South African Institute of International Affairs encourages schools and learners to read about the world – I think that's marvelous." He received a standing ovation from learners, all of whom were all born after 1994.
Watch an excerpt of Prof Goldberg's speech in a short video from the 2014 Quiz
This year, the winning school was Claremont High School, a great achievement for a school that participated for the first time in the quiz only last year. Second place went to the Oracle Academy, and third place to Glendale Secondary School.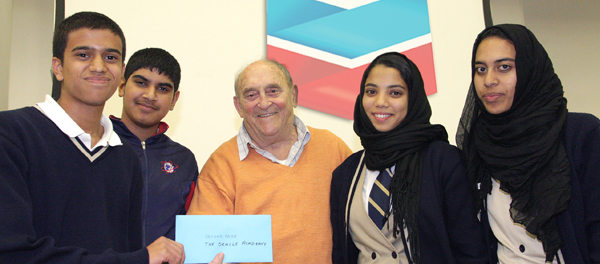 The Most Improved Trophy was awarded to Simon's Town High School, who moved from 41st place last year to 9th place this year. An enthusiastic new teacher encouraged them in their preparations and ensured they could attend the dedicated Quiz workshop, provided annually for schools who either require more assistance or who are new to the quiz.
Minister of Education in the Western Cape, Donald Grant, opened the Quiz with some warm words of encouragement for the learners. Africa Melane, presenter on CapeTalk Radio, was the Master of Ceremonies for the evening.
The learners were set 20 challenging questions, related to both articles published in the Cape Times and papers produced by South African Institute of International Affairs (SAIIA).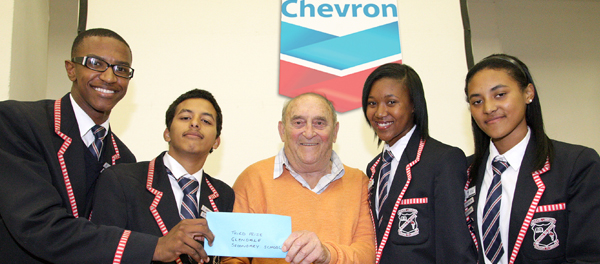 Jonathan Stead, the Director of Communication and Marketing from SAIIA, acted as the quiz master this year. The Quiz is hosted each year by the Western Cape Branch of SAIIA, in line with SAIIA's objective to engage more young people in international affairs. Find out more about SAIIA's Youth Programmes here.
Mr Stead said: "The obvious thirst for knowledge demonstrated by the learners and their excitement in participating in the quiz are highlights for me. As the quizmaster I had the privilege of seeing that up close. They had worked so hard in preparing for it and this showed clearly on the night."
Mr Stead added that SAIIA was proud to be part of this programme as it raised the level of knowledge on current international issues among young people. "Well done to all the teams!" he said.
For more information on the Quiz and how to involve your school, contact Pippa Segall on wcbranch@saiia.org.za.