Their protests were met with police beatings and bullets. The students marched and demonstrated with the school bags on their backs and many died still wearing their school uniforms. The actions those students took in their classrooms that day had repercussions beyond their fight for a quality education. Many see the student uprisings of 1976 as a turning point that eventually led to the fall of apartheid. It's an example of how the actions of just a few young people can change the course of history.
Youth @ SAIIA, the Institute's youth programme, aims to build on this idea through its three core initiatives aimed at high school students from around South Africa. Through programmes such as Model United Nations, the Environmental Sustainability Project and Inter-schools quizzes, youngsters are heeding the call for action not only at a local, but also on a global level.
SAIIA's youth development officer, Desirée Kosciulek (pictured, right, with students), works with hundreds of high school learners and teachers and says that through the Youth @ SAIIA programme she has seen children from various back grounds come together, putting aside their differences to try and create solutions for the global issues we face.
She says there is often a general perception that young people are unappreciative of the past, but she is seeing what she calls "an amazimg amount of good work" among the participants of Youth @ SAIIA projects. "I have witnessed learners in the poorest circumstance huddling around computers on a Friday afternoon, while their peers were playing, excitedly researching and gathering information on topics even many adults know little about", says Kosciulek.
"I know countless teachers who give of themselves without thanks, working on weekends, and giving up holidays to tutor their learners in preparation for our events."
Engaging on global issues through Model UN
Youth @ SAIIA recently held its annual Model United Nations (MUN) conference with more than 450 high school learners from around Gauteng attending. Model UN requires participants to master the art of consensus building while drafting resolutions to solve some of today's most complex global issues.  By stepping into the shoes of UN ambassadors and representing viewpoints of 192 UN member states, young people gain awareness of ideas and trends that most deeply affect their generation.
This year's adjudicators included Sudeshan Reddy and Helene Hoedl of the UN Information Centre in South Africa, as well as André Viviers of UNICEF.  Topics addressed by students this year include the situation in Côte d'Ivoire, the Nile Water situation, Child Marriage, and UN Security Council reform.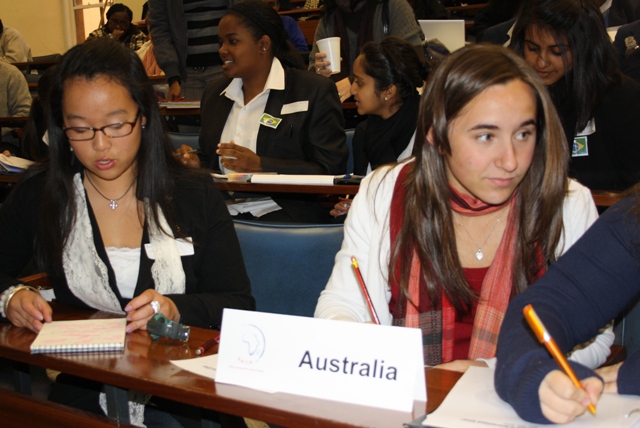 André Viviers, who also adjudicates Model UN at university level, marvelled at the work the high school participants put into this year's event. "I am highly impressed with the standard of debate by the learners on child marriage", he says.
"They were very well prepared and did good research. It was refreshing to notice that they did not only read up and prepare on the issue at hand, but that they were also knowledgeable in the foreign policies of the countries they represented and the UN system. I think the Model UN is providing a perfect opportunity for the civil education as well as life skills development of these young people."
Images: Teams from different schools are required to represent a country, put forth that country's view and advocate for that country's position. Pictured, top, is a team representing Lebanon and below, is Australia.
To COP 17 and beyond: Environmental Sustainability Project
As South Africa hosts the all important United Nations Framework Convention on Climate Change (UNFCCC) 17th Conference of Parties (COP 17) in Durban this year, schools from around the country are participating to eventually hold their own climate change negotiations at the Durban conference. Participating school teams have just finished the first part of the this year's Environmental Sustainability Project, which  requires learners to compile a ten page essay or research paper  on topics such as 'climate change and deforestation' or 'climate change and conflict'.
The top 5 teams from each participating province will be invited to present their findings and possible recommendations or solutions to a panel of experts and their peers at events to be held throughout the country in August.  6 learners from each province will then be chosen to travel to COP 17 for youth climate negotiations at the end of the year. Using principles of Model United Nations or formal debate, participants will represent different sectors or interest groups from each of the areas in which they researched, and will work together to draft their own Durban Youth Protocol. "The Environmental Sustainability Project is so important because it reaches different teachers and different learners who might not otherwise be exposed to issues relating to international affairs," says Desirée Kosciulek.
"It has been amazing to read through the papers these learners have written, and it will be exciting to see what recommendations our young people put forward later this year."
Critical, current and quick: The Inter-schools Quiz project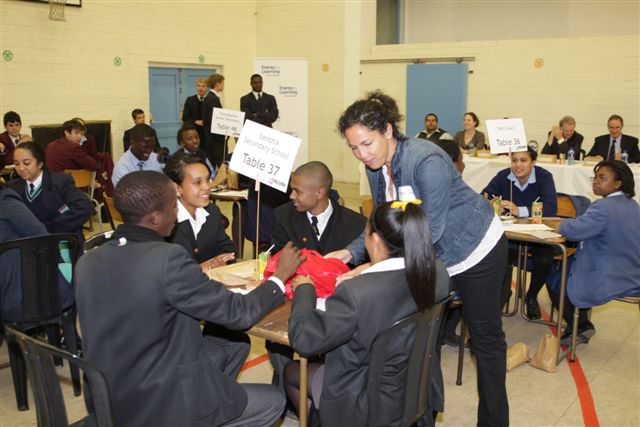 SAIIA's branches in the Western Cape and Pietermaritzburg have been the driving force behind the interschool quizzes. Our longest and most successful quiz in Cape Town just celebrated its 19th year. This year, 50 schools participated in the 19th Annual Caltex SAIIA Inter-schools Quiz held at Bishops High School in Cape Town. Questions were focused both on internationally related events, as well as current issues facing South Africa.
Learners prepared for the quiz by keeping up to date on local and international current events by reading donated newspapers, and through tutoring and workshops organised for participating schools. One of the most important aspects of the quiz is to encourage learners to be critical thinkers able to relate global events to the South African context. In article written after the quiz and sponsored The Cape Times, four students explained their view on the quiz and what the process has taught them. The article points out that "reading of each day's newspaper to prepare for the quiz had indeed brought home the value and importance of press freedom. Upheaval in north African states, due to frustration at the oppressive nature of the respective governments, has brought to light the negative effects of controlling, or silencing, the media".
SAIIA youth programme started as an informal project run by volunteers. It is now a fully fledged programme geared at involving youth from across the country. The idea, says youth development officer, Desirée Kosciulek, is that young people are learning that the "local is global" and that they are looking further than themselves at issues that affect young people around the world.
"I'd like their legacy to be that they fight not just for themselves but also for issues that affect youth of the world," Kosciulek says.
The Model United Nations project is supported by United Nations Association of the USA and the United Nations Foundation called Global Classrooms. The Environmental Sustainability project is supported by the United States State Department and Sasol. The SAIIA/Caltex Inter-schools Quiz project is supported by Caltex and Chevron.