"Never Betray Congo" – a warning to SADC Leaders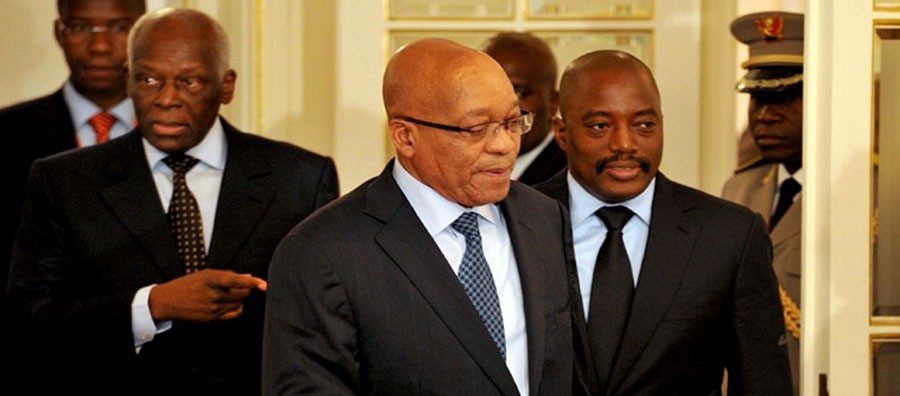 The Southern African Development (SADC) heads of state met in Pretoria to discuss developments in the region, they will do so under new stewardship from Angola and South Africa.
Angola will assume leadership of the Organ on Politics Defence and Security Cooperation (OPDSC), while South Africa assumes overall chairmanship.
More than any of the other 13 SADC members, these two countries have an instrumental role to play in influencing a positive outcome for the people of the Democratic Republic of Congo (DRC). Both President Eduardo dos Santos of Angola and South African President Jacob Zuma enjoy a good relationship with President Kabila and both South Africa and Angola have leveraged these relationships to engage President Kabila on related issues through the International Conference on the Great Lakes (ICGLR).
Read our related article 'Dangerous slippage in the DRC'.
However, both countries are also facing seismic domestic shifts that are likely to distract them from unfolding events in the DRC. On 23 August – just days after the Summit – Angolans will go to the polls, following which President dos Santos (who has been in power since 1979) is expected to step down. Although power is likely to transfer to long-time dos Santos supporter and MPLA (People's Movement for the Liberation of Angola) stalwart, João Manuel Gonçalves Lourenço, uncertainty remains around how the new president is likely to deal with the dynastic power of the first family who have been strategically occupying positions of wealth and power over the country's resources.
In South Africa, President Zuma's position has never been more precarious. He survived his eighth vote of no confidence in Parliament on 8 August – by the narrowest margin yet – performed for the first time, by secret ballot. The final tally of votes show significant party dissent, as approximately 15% of African National Congress (ANC) MPs voted for the motion. The ANC is fractured, and faction-fighting is likely to ramp up ahead of the party's elective conference in December that will decide his successor. Many analysts doubt that he will remain South Africa's president for much longer after that.
Tragedy imminent
In spite of these pressing developments, it is imperative that regional leaders not lose sight of the fact that tragedy is once again imminent in the DRC.
Amidst opposition calls for President Kabila to hold elections – meant to have been staged in 2016 – Congolese continue to pay with their lives. In Kinshasa, 50 people died in clashes with police protesting the announcement that government would not hold elections that year in September 2016. In August 2017, reports were circulating about the deaths of 14 people branded as secessionist rebels from the group Bundu dia Kongo, killed by state security forces in Kinshasa.
More frighteningly, a mounting humanitarian crisis has been developing in the Kasai region bordering Angola. The UN High Commissioner for Human Rights released a report in early August 2017, finding that more than 250 people, including 62 children, were killed in DRC between mid-March and mid-June (mainly in Kasai).
In a ministerial mission to DRC in April 2017, the SADC Troika – the three member leadership – on the OPDSC did little more than condemn "the escalation of violence and insecurity in the Kasai Provinces perpetrated by the Kamwina Nsapu militia group, encouraged the government to strengthen the capacity and presence of local state institutions and urged all stakeholders to refrain from actions that would undermine the political and security stability." In the same statement, SADC ministers congratulated President Kabila for his efforts in pushing the political process forward. However, on 7 July, the head of DRC's electoral body CENI (Commission Electorale Nationale Indépendante), Corneille Nangaa, announced to the Organisation Internationale de la Francophonie that the government would not be holding elections as promised by December 2017.
SADC, for all its rhetoric of furthering regional integration, encouraging multilateralism and building strong institutions, is still largely driven by the will of individual political leaders. If South Africa and Angola give into their pressing domestic circumstances, it minimises the opportunities for proactive engagement in preventing a political crisis in the region come December. The regional organisation must take a greater interest in the unfolding events in the DRC and in overcoming the impasse regarding the handover of power from Kabila. A peaceful outcome is necessary for the DRC and for the region.
As SADC leaders meet to discuss developments in the Congo this weekend, let them be reminded of the words presiding over Laurent Kabila's Mausoleum in Kinshasa: "Ne Jamais Trahir le Congo" – Never Betray Congo. The world, and the Congo, is watching.