As part of the 2019 conference, delegates will host their own negotiation sessions on topics related to 25 years of democracy and the conference theme "Redefining African youth participation: A path to transformative leadership". The negotiations will culminate in the formal presentation of the 2019 Young Leaders Declaration to commemorate youth month.
The handover will take place at a special event at SAIIA's head office on 20 June 2019, where Young Leaders will hand over their 2019 Young Leaders Declaration.
Meet our 2019 Young Leaders
Munnira Katongole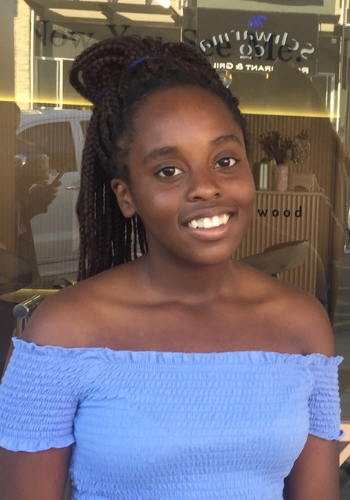 School: Parktown Girls' High School, Gauteng
Age: 16
Research perspective: Sexual and Reproductive Rights (African context)
Munnira is a grade 10 learner from Parktown Girls' High School. She enjoys participating in Model United Nations debating, facilitating and leading a team in an AU simulation hosted by the African Leadership Academy Model African Union, and doing community service during school holidays.
"June 16 is a powerful symbol of the youth's eagerness to make the country in which they live a prosperous and peaceful one. The Soweto Uprisings show us that change is not always systematic process, but it can sometimes take a radical form. In order to achieve development and change in South Africa, inter-generational consideration and cooperation is imperative, so the needs of all people are met. Therefore, youth involvement in leadership is essential and very necessary."
Akhona Xotyeni 22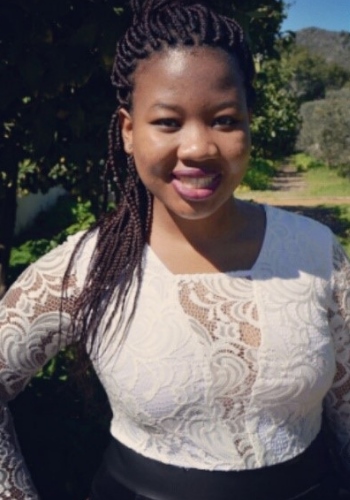 School: Stellenbosch University, Western Cape
Age: 22
Research perspective: Climate Change (African context)
Akhona is currently completing her Honours degree in Environmental Management at Stellenbosch University. She is a Youth@SAIIA Young Participant who has participated in our Action 24 Model Legislature Programme and participated at the PAGE Ministerial Conference in Cape Town. Akhona also volunteers at various organizations including the Prochorous Dream Again Foundation, the UNASA night shelter, the Kayamandi Primary shoe Project, to name a few.
"Transformative leadership to me is about being an active citizen standing up for what is right and just. Being able to not discriminate between which social issues you are for, but to diversify your advocacy such as standing up for basic human rights, the rights of women, the LGBTQI community, the poor, all races and all marginalized groups."
Siphumelele Besi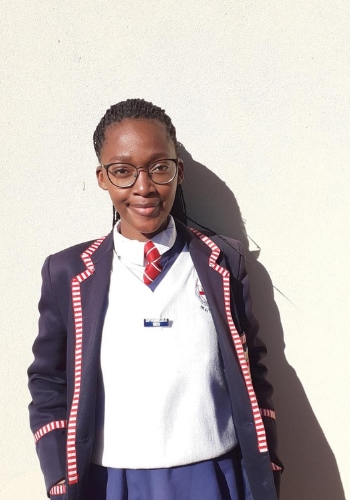 School: Queenstown Girls' High School, Eastern Cape
Age: 18
Research perspective: Rural development and land reform (Global context)
Siphumelele is an active member of the interact society at her school. She enjoys lending a helping hand at school and within the Queenstown community at large. She is part of an initiative which was started by a friend of hers called "Queenstown is MAD (Making A Difference)" where they collect clothes and donate to underprivileged people and run a soup kitchen in winter.
"Youth participation will help the youth develop social skills and understanding of their place in their community and how they can help better it. Most importantly it is important for the youth to get involved and bridge the gap between the youth and our current leaders. The youth need to participate in decision-making and get exposed to leadership before it is their turn to lead, after all practice makes perfect.
I am mostly excited about the various things I will get exposed to from the YLC. I will finally be part of something bigger, something that is determined to bring about change in our country starting with the youth. I come from a small town where there is very little youth participation. I believe the YLC will equip me with the skills needed to help me encourage and educate the youth in my own community of the importance of youth participation."
Jason Muyumba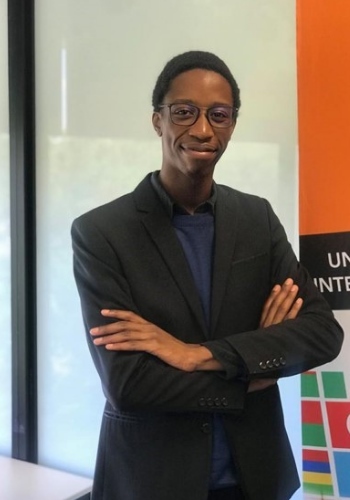 School:University of Johannesburg, Gauteng
Age: 21
Research perspective: Migration and African diaspora (Global context)
Jason currently sits on the executive board of the University of Johannesburg's International Student Society. As secretary general, he is primarily responsible for the communication to and from the society.
"I believe in leadership that is not fundamentally intersectional. Leadership should draw from a wide range of inherent, taught and learned expertise. The learned experiences of young people, and those of women or minority groups, are often generationally dynamic and bring about their own, distinct set of expertise and thus skill sets and perceptions. It is the inclusion of these skills and perceptions (expertise) that is the crux of holistic leadership. In my view, we should begin to measure the integrity of leadership based on the fundamental inclusion of youth and other minority groups as opposed to viewing their inclusion as an additive."
Penuel Ndumiso Goodman Nkosi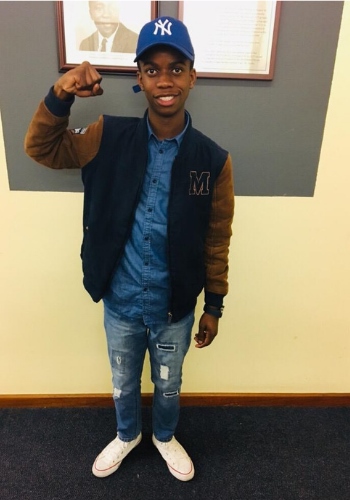 School: University of Cape Town, Western Cape
Age: 19
Research perspective: Intergenerational dialogue (Global context)
Penuel is currently studying at the University of Cape Town. He is a member of the UCT Debating Union and the United Nations Association of South Africa – UCT Society. He founded the Chairperson of The Accountants' Group and currently serves as the Chairperson of the organization.
"I believe that young people are the future and that it is imperative for them to be involved in leadership so that they can take part in making decisions that will affect them in the future. Young people must represent themselves. They know what they want and they can bring innovative ideas to the table. Yes, the 20th century generation can make decisions for us as the youth but frankly speaking, they will not be there to see the outcomes of those decisions. Who are we going to hold accountable if, for example, Agenda 2063 fails dismally? The people who came up with it will not be there! So, the 20th century generation should pass the baton to the youth so that we can have people to hold accountable in the future. The voices of young people are needed in leadership now more than ever before."
Mbalenhle Princess Ntshangase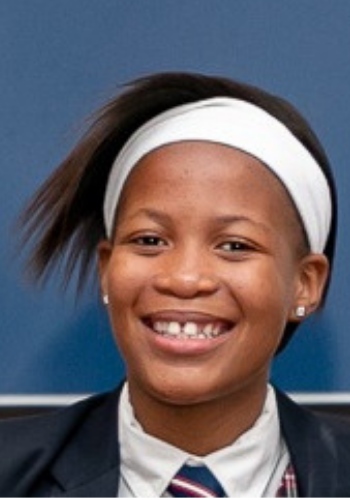 Lwandile Luyanda Sambo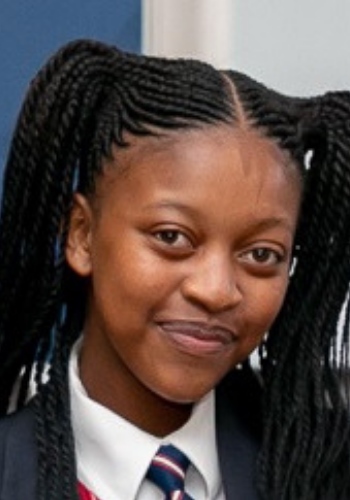 School: Kiriyatswane Secondary School, Mpumalanga
Mbalenhle and Lwandile are members of the eco-buddy club in their school. As eco-buddies, Mbalenhle and Lwandile educate and encourage members of the community to be conscious of the environment. In 2018, they took part in the SAIIA Environmentally Sustainability Project where their research on Biodiversity and Environmental Governance won a gold award.
"We want to participate to YLC  because this is one great opportunity where we will meet other young minds who are also determined to combat the issues we are facing in the world today as we are the ones we have been waiting for to meet the great demands of sustainable development. We look forward to hearing other young mind's proposed solutions, and also come with our proposed solutions to achieve the one goal we are all thriving for, which is being involved in the decision making both nationally and globally. We also want to curb the participation gap that many countries democracies are currently facing."
Reagam Bolwin Beukes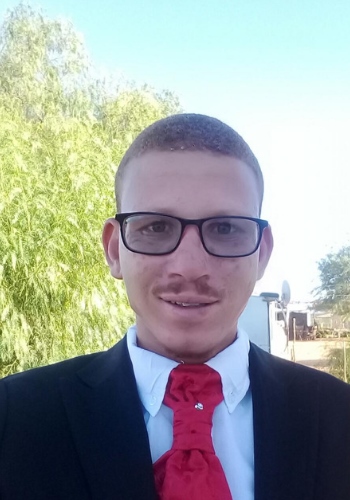 Organisation: Activate! Change Drivers Academy, Northern Cape
Age: 23
Research Perspective: Education (National context)
Reagam resides in a rural town called Kamassies, 120 km outside Springbok, Northern Cape. He is passionate about community and education development. He runs the only Youth Centre in his community called Kamiesberg Resource Centre. He currently works as Academy Assistant at Activate! Change Drivers Academy.
"The youth are not the leaders of tomorrow, but of today. Youth involvement is an important means to overcome socio-economic issues faced in communities as well as the country. Developing young people to develop skills improves them in solving community problems."
Muano Nonge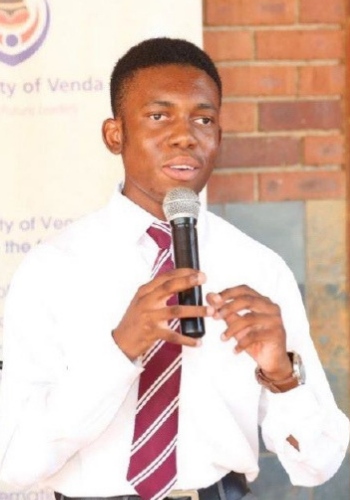 School: Marude Secondary School, Limpopo
Age: 16
Research Perspective: Cities and Human Settlements
Nonge Muano is a passionate learner who is dedicated and committed in everything he does. He is passionate about cities and human settlements, and finding solutions to different problems concerning livelihood, support and creating environments that facilitate human development.
"In my view, the purpose of joining the conference is to learn on how youth can implement their full participation in government making decision and solving matters and transformative leadership. Transformative Leadership is how the youth take part in decision making in an organisation based on their body structure.  The most important thing why youth must get involved in leadership is to take part in decision making on how the country can provide service delivery to the people to take the country from developing to a developed country and a basic living for all with no expenses for the poor and rich."
Mamogwasha Tlolane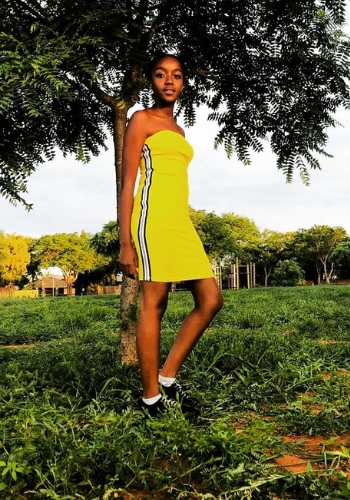 School: Wendyhood High School, Gauteng
Age: 16
Research perspective: Energy (Global context)
"Transformative leadership is, at its heart, a participatory process of collective collaboration and transformation for mutual benefit. It allows society to come together and contribute to the development of the world in all spheres and gives them a chance to exercise their public participation rights. Everyone contributes to the world we live in to create an environment that is inclusive."
Lusanda Baai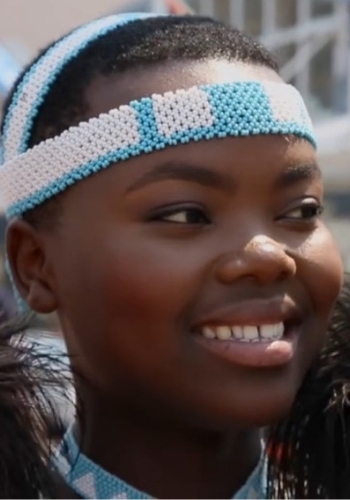 School: Cape Peninsula University of Technology, Eastern Cape
Age: 21
Research perspective: Water and Sanitation (Global context)
"It is important for the youth to engage in leadership because there is a need to pass on the leadership to the next generation. Youth development leadership is a great element of sustainable development, not only to the young people but to South Africa at large. The youth plays a very effective role because of them being young, vibrant and full of energy. They have an ability to fulfil the position left by the elders, protect their culture and tradition, and to make the society even better."