Scientific reasoning and mathematical literacy are not enough to tackle the challenges that face South Africa and the world today. Learners and students need to become critical thinkers who are able to read between the lines in order to create solutions to issues that may not have just one right or just one wrong answer.
To foster a greater appreciation and understanding of global issues among the youth, the institute's youth programme, simply called Youth @ SAIIA, provides unique and often life changing opportunities for youth to expand their perspectives and connect their realities to the global developments.
Youth @ SAIIA engages through three core programmes: the Environmental Sustainability Project, the Model United Nations project and Inter-Schools Quizzes. Through discussion forums, workshops, and tutoring sessions, Youth @ SAIIA reaches an ever increasing number of high school learners, teachers, and university students from across South Africa. Participatingeducators, learners and students walk away with relevant skills that ultimately leave them with a deeper ability to engage with and understand issues affecting South Africa, the African continent, and the world as a whole.
Road to COP 17
Starting in late November 2011, South Africa will host the 17th Conference of Parties (COP 17) to the UN Framework Convention on Climate Change (UNFCCC) in Durban. Youth @ SAIIA recently launched this year's Environmental Sustainability Project – themed "Road to COP 17" – in Johannesburg and Cape Town in a bid to prepare young learners for this major international conference. The project is a schools outreach competition that requires teams of learners to research an assigned topic (through using the internet, media scanning or personal interaction). The topic must relate to climate change and has to consider what possible recommendations or solutions they would propose at a local, national, regional or global level.  Divided into three stages or rounds, this year's winners will be invited to participate in a type of model youth climate negotiation at COP 17, and will have a chance to share their solutions for tackling current environmental challenges.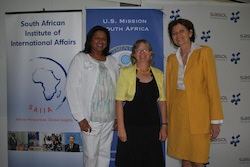 Pamela Mudhray of Sasol, Tracey McKay of Johannesburg University and the Deputy Chief of Mission of the United States, Helen La Lime at the launch of the Environmental Sustainability Project.
At the Johannesburg launch, participating high school learners made their way to Parktown High School for Girls to listen and interact with each other and experts in the field. They were treated to an informative talk by Tracey McKay , climate change specialist from University of Johannesburgwho took the youngsters through the science, impact and realities of climate change. The project is made possible through the generous support of the United States Department of State and Sasol. American Deputy Chief of Mission in South Africa, Helen La Lime, and Sasol's Pamilla Mudhray also shared their experiences and insights with the learners.
At a similar event at Belgravia High School in Cape Town a few days later, SAIIA senior researcher Romy Chevallier shared her research in the field of climate change and American Consul General, Dr. Alberta Mayberry, shared her personal lessons in coming to grips of a changing climate. For more information on the Environmental Sustainability Project, follow this link.
Simulating the UN
The Model United Nations programme is one of the institutes longest running youth initiatives. In its 16th year, the Model UN project is an academic simulation of the United Nations or other regional bodies such as the African Union. Since 2001 SAIIA's Model United Nations programme has partnered with an initiative of the United Nations Association of the USA and the United Nations Foundation called Global Classrooms. This year's discussion topics include the situation in the Ivory Coast and a special session on the UN Security Council reform. As one Grade 10 learner observed: "Learning about what is happening in the rest of the world is important. I never thought that chocolate and stuff in the Ivory Coast could be connected, and it is making me see the world differently". For more on the Model United Nations and this year's topics, please follow this link.
Inter-Schools Quizzes:
The 19th Annual CALTEX SAIIA Interschool Quiz will be held in Cape Town on 17 May 2011. SAIIA's branches have been the driving force behind SAIIA's very successful interschool quizzes, which presently take place in Cape Town and Pietermaritzburg in KwaZulu-Natal. Questions are focused both on internationally related events, as well as current issues facing South Africa. Learners prepare for the quiz by keeping up to date on local and international current events by reading donated newspapers. One of the most important aspects of the quiz is to encourage learners to be more critical and thoughtful thinkers able to relate global events to the South African context.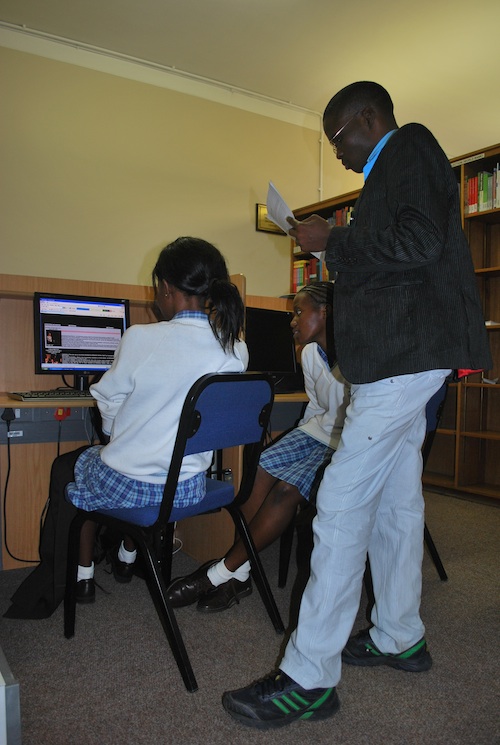 Youth @ SAIIA Student Volunteers:
Throughout the year Youth @ SAIIA works with an enthusiastic group of student volunteers from various South African universities. Working with the Youth Development Officer, these volunteers assist learners with research and public speaking skills in preparation for the various Youth @ SAIIA projects, conferences and programme events. Through tutoring sessions and workshops, these volunteers impart their knowledge and gain valuable new skills through helping high school learners on various topics. If you or a student you know is interested in volunteering please download the attached document [Download-pdf-English].
To contact Youth @ SAIIA on Facebook, click here.
Desirée Kosciulek is the Youth Development Officer at the South African Institute of International Affairs