Helene Hoedl, Director of the Pretoria-based United Nations Information Centre (UNIC) described Model United Nations as the best outreach programme for young people 'in helping students to understand the principles, values and procedures of the United Nations and become a global citizen'. She was addressing over 500 high-school learners at the 2014 SAIIA Johannesburg Model United Nations Conference on 13 September, the largest event of its kind in Southern Africa.
View photos of the event on the Youth@SAIIA Facebook page.
Ms Hoedl urged learners to think of UNIC as a resource for their studies and activities around the many issues addressed by the United Nations (UN). 'You should feel free to take advantage of the information and programmes that we offer in our offices and library in Pretoria and on our websites and social media platforms,' she explained.
She said the United Nations was at work 24 hours a day, 365 days a year focusing on every conceivable issue facing humanity. This includes a multitude of challenges that have no borders, and which – like the Ebola epidemic a number of African countries are facing – no single country can solve on its own.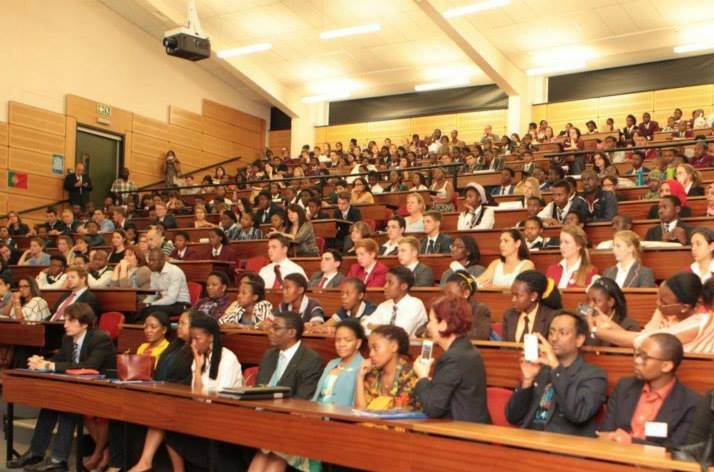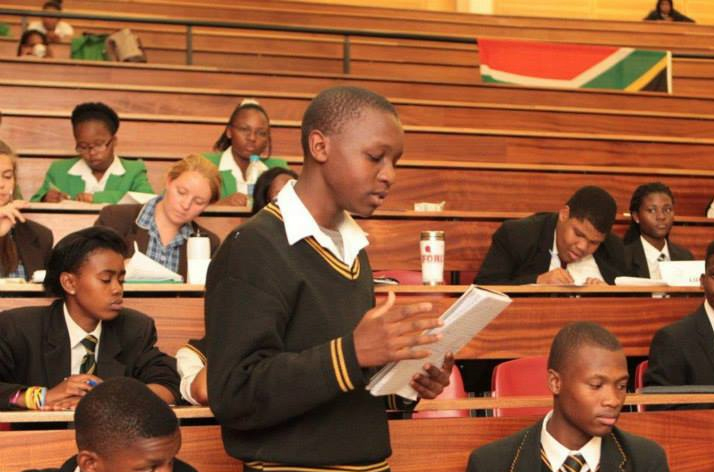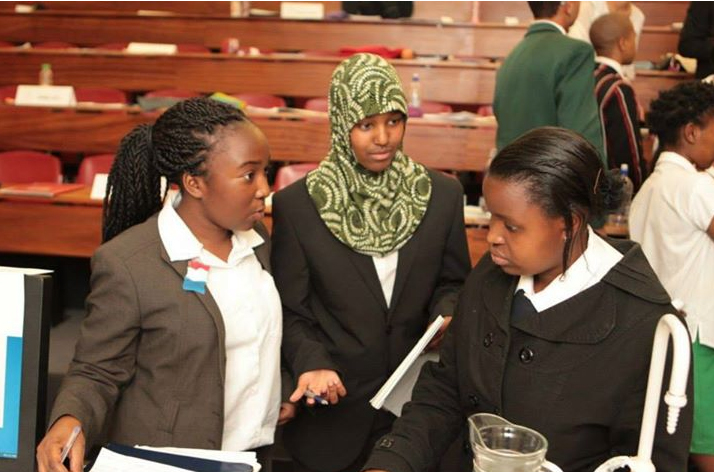 At the time of her address, over 100 Heads of States were preparing to come together for the United Nations Climate Summit on 23 September at UN Headquarters in New York. The objectives of Summit are to mobilize political support for a global climate agreement in 2015. The day after this, on 24 September, President Zuma was scheduled to be among the Heads of States who will address the 69th session of the United Nations General Assembly in New York – the world's largest annual gathering of Heads of State.
Next year, the United Nations will be 70 years old, and it will be 70 years since South Africa joined as one of the 51 founding members of the UN.
Ms Hoedl said South Africa had an interesting history in the UN as the United Nations Committee against Apartheid played a key role in galvanising the global response against the minority regime in this country. 'When Nelson Mandela addressed the General Assembly shortly after becoming President in 1994, he thanked the UN for its efforts in this regard,' she said.
The SAIIA conference was taking place as the world witnessed carnage and suffering in too many parts of our world, she explained, adding that from Syria to the Central African Republic, from the Ukraine to Gaza to Iraq, we are reminded daily of how much the United Nations is needed. The pressures placed on the UN to end conflict, provide humanitarian assistance, keep the peace and facilitate negotiations, are immense.
Also attending the conference were representatives from various South African-based embassies and high commissions as well as other UN agencies including Sadiq Syed from UN Women, Cecilia Njenga of the UN Environment Programme, and Nozipho Ncube of the UN High Commissioner for Refugees. The Directorate of Human Rights at the Department of International Relations and Cooperation was represented by Mr Luvuyo Ndimeni, while the main sponsor was represented by Dr Mabouba Diagne, Corporate Regional Head for Southern Africa in Mauritius and Seychelles Absa Corporate and Investment Banking.
Ms Hoedl said her UNIC office was a long-time supporter of Model UN in South Africa and 'has enjoyed a long partnership with SAIIA in terms of educational outreach and advocacy around critical global issues'.
She told the high-school learners present that Model United Nations equips them with a range of skills – from learning the diplomatic art of compromise and finding consensus, to honing their public speaking and negotiation skills. Furthermore, the topics that they debated were real, relevant and critical to humanity's 'shared responsibility to make this world a better place'.
About Model UN
Model UN is an academic simulation of the United Nations or regional bodies like the African Union. Each school team is given a country and a committee, and on conference day learners arrive as delegates of their assigned country to hold debates and negotiations to create draft resolutions on the their topics. Learners coming on 13 September have been researching global issues, and have been preparing in smaller school level conferences known as Mini-MUNs for months. Model UN develops not only knowledge of what is happening in Africa and the world, but also research, public speaking, negotiation, and critical thinking skills.
The top learners from this event will be invited to participate in the 2014 SAIIA Young Leaders Conference in December. Adjudicators at the event included members of government, the UN, SAIIA, academia, diplomats, and representatives of the private sector and NGOs.
Visit the Model United Nations page for more information on SAIIA's Model UN programme, and how to get involved.
EVENT DETAILS
Date: Saturday 13 September 2014
Time: 09h00-16h30
Venue: Wits Science Stadium, University of the Witwatersrand West Campus
PROGRAMME
8H00-9H00: School Check-In
9H00-10H00: Opening Ceremonies
10H00-15H30: Committee Debates and Negotiations
15H30-16H30: Closing Ceremonies and Awards Presentation
2014 COMMITTEE BREAKDOWN
COMMITTEE 1: UNITED NATIONS CONFERENCE ON SMALL ISLAND DEVELOPING STATES
TOPIC: DEVELOPMENT FOR SMALL ISLAND DEVELOPING STATES
Small Island Developing States (SIDS) is the collective term given to the 52 UN listed low-lying coastal states around the world. SIDS member states are divided into three regions: Africa, Indian Ocean, Mediterranean and South China Sea (AIMS); Caribbean; and Pacific. These states face similar development challenges as a result of their geography and environment, and all share a particular risk due to climate change and rising sea levels. Over the years these challenges have led to several disaster situations and have placed a strain on socio-economic development and human security. Consequently the SIDS have been highlighted as one of the worst performing groups with regards to meeting MDG 1 poverty eradication. In the lead up to this year's 3rd International Conference on Small Island Developing States, this session of the United Nations is tasked with highlighting key priorities for development within SIDS. Delegates of this session will also need to consider how to link the needs of SIDS with the Post-2015 Development Agenda.
COMMITTEE 2: UNITED NATIONS SECURITY COUNCIL (UNSC)
TOPIC: THE SITUATION IN THE CENTRAL AFRICAN REPUBLIC
Since its independence, the Central African Republic (C.A.R) has been marred by a history of political instability and violence stemming from the presence of rebel forces within the country, as well as trans-boundary conflict from the Democratic Republic of Congo, Sudan and Uganda. At the beginning of 2014 the United Nations Security Council Integrated Peace-building Office in the C.A.R. had its mandate extended to assist with a peaceful transition to democracy, prevent further conflict and ensure human rights within the country. Delegates of this session are tasked with making recommendations for ensuring lasting peace in the C.A.R. Some reflection of the African Union's role within the C.A.R should also be made.
COMMITTEE 3: UNITED NATIONS EDUCATIONAL, SCIENTIFIC AND CULTURAL ORGANIZATION (UNESCO)
TOPIC: EDUCATION POST-2015
At the Millennium Summit in September 2000, world leaders came together to adopt the United Nations Millennium Declaration. Nations committed to eight targets, known as the Millennium Development Goals or MDGs, and agreed to a deadline of 2015. The eight MDGs range from achieving universal primary education (MDG 2) to ensuring environmental sustainability (MDG 7). Building the Post-2015 Development Agenda is a United Nations (UN) led global consultation project, aimed at developing a new framework of development which will become effective when the MDGs expire in 2015. Education is one of the key priority areas for the Post-2015 Development Agenda, and many expect there to be a new education goal for the world beyond 2015. Delegates of this session will need to research current global education initiatives, examine challenges surrounding MDG 2, and come together to put forward recommendations for a Post-2015 education goal.
COMMITTEE 4: OPEN WORKING GROUP OF THE UNITED NATIONS GENERAL ASSEMBLY (OWG)
TOPIC: SUSTAINABLE DEVELOPMENT GOALS (SDGs)
In 2012, twenty years after the 1992 Earth Summit in Rio de Janeiro countries of the world once again came together to discuss a more sustainable future at the Rio+20 Conference. One of the outcomes of Rio+20 was to propose a new set of goals after the Millennium Development Goals (MDGs) deadline of 2015. These new goals are known as the Sustainable Development Goals (SDGs), and are meant to address environmental needs, economic growth and social development. Open Working Group (OWG) meetings have been organised to discuss the possible goals, and how to make the SDGs part of the larger plan for the world in 2015 and beyond. Delegates of this OWG session will need examine ways to better link the SDGs with the Post-2015 Development Agenda, and will need to put forward recommendations for the new goals that consider sustainable development from a three pillar approach: environmental, economic and social.
COMMITTEE 5: ECONOMIC AND SOCIAL COUNCIL (ECOSOC)
TOPIC: GLOBAL REFUGEE CRISIS
The current global refugee crisis has been labelled the worst ever since the 1994 Rwandan Genocide. The United Nations High Commissioner for Refugees (UNHCR) estimates that over 42 million people were classified as 'displaced' or 'persons of concern' in 2013, with the greatest number coming from the Syrian Crisis. Delegates in this session will need to look at the refugee crisis holistically as they consider the plight of the refugees themselves, and host states to which they flee.