Rest in power, Mother of the Nation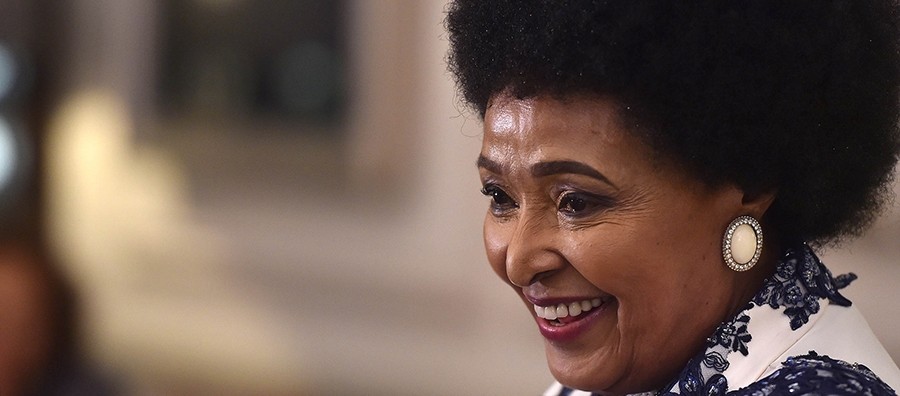 The late Winnie Madikizela-Mandela was eminently revered as the 'Mother of our Nation' – a courageous matriarch who fought tirelessly for a non-racist, non-sexist society amid circumstances that could have crushed the strongest of minds.
What Madikizela-Mandela was less well known for, however, was her indomitable spirit to further her studies in the late 1980s, when harassment by the apartheid government was at an all-time high. During this time Madikizela-Mandela completed a Bachelor of Arts in Politics and International Relations, at Wits University.
Uwile umthi omkhulu Mbokodo yesizwe – the great tree has fallen, rest in peace Mother of the Nation.
In paying tribute we asked the born-free leaders in our network, many of whom are following a career or studies in International Relations, what Madikizela-Mandela means to them. Here's what they had to say:
Luanda Mpungose, project officer in the African Governance and Diplomacy Programme at SAIIA:
"Nomzamo Winifred Madikizela-Mandela was an icon, a fighter and a revolutionary. Young people have so much to learn from her resilience. When the apartheid government tried to break her, she always emerged stronger. She threw up that fist even when there seemed to be no hope. We bid you farewell Mbokodo."
Genevieve Savary, intern in the African Governance and Diplomacy Programme at SAIIA:
"Winnie Madikizela-Mandela represented all the qualities of women we revere most … My father has told me stories about how Mama Winnie guided him and many other young comrades towards a path of peaceful struggle, so that my generation did not grow up without parents. She was the epitome of the strong black woman, and is an inspiration to young women of colour. As the children of the generation she guided, we mourn her passing and celebrate her life as our gentle, yet fierce protector."
Cayley Clifford, intern in the African Governance and Diplomacy Programme at SAIIA:
"During a time of unthinkable struggle, Winnie Madikizela-Mandela's unparalleled resilience and defiance kept the freedom movement alive. As a young woman of colour, I am thankful for the strides she made in achieving both racial and gender equality and I am encouraged by her steadfast commitment to the South African people …"
Thembi Zungu, communications and publications intern at SAIIA:
"It is because of great, selfless women like Mama Winnie – who stood up tall, fearless and courageous – that we as young women have a voice today. Your legacy will live through us. You fought battles that have afforded us great opportunities. I embody strength because of women like Mama Winnie Madikizela-Mandela. Thank you Mother of the Nation. Rest in Power Qhawe lama Qhawe."
Kenneth Diole, director at a youth-led advocacy organisation and member of SAIIA's Youth Policy Committee:
"To she who birthed courage, mothered a nation, led a people and inspired generations … To she who sacrificed, served, and dared to live boldly, we say farewell. Farewell to the Mbokodo who showed us that women can be and do everything. We bid farewell to you, Ma, not in sorrow or pain, but with hearts full because we were privileged enough to live in your era. We were able to draw inspiration from you directly, and not just as a memory. We celebrate you, the mother. You the activist. You the politician. You the social worker. Rest in Power Mama Winnie, thank you for giving your life to the freedom and liberation of this nation. We love you and aspire to be as bold as you were."
Candice Chirwa, studying an MA International Relations at Wits University and part of SAIIA's Youth Policy Committee:
"Winnie Mandela, despite all odds, fought courageously against all forms of oppression. Today as the youth, we must carry the torch and continue to work towards a more equal and just world. The world has lost a phenomenal leader. South Africa has lost one of its biggest icons. Rest in Power, Queen."
Kathryn Schell, English teacher and member of SAIIA's Youth Policy Committee:
"Striking a woman is striking a rock – if anyone was proof of that, it was Winnie Mandela. Her strength in times of struggle was nothing short of granite. She stood as woman to lead all. A woman unafraid to do that which seemed impossibly hard. A woman who proves that women are strong, capable leaders. A woman who held light in times of seemingly endless darkness. A woman who reminds women today that we can do anything; we can be anything; we can change anything. Thank you, Winnie for being the rock that was struck and stayed standing."
Nkosinathi Lunga, third-year LLB student at Wits University and part of SAIIA's Youth Policy Committee:
"uMam' Winnie Madikizela-Mandela … showed us all what it means to be a true leader. I admired her unwavering and unconditional love for her people. She constantly stood up for her people, she defended her people. We enjoy freedom today because of her countless efforts. We have lost our mother, ngithi Lala kahle Mam' Winnie Madikizela-Mandela, your spirit lives on in each of us."