In light of this, political analysts speculated on what a possible 'two-centres of power' or a 'Russian Solution' would mean for governance and accountability in Mozambique, should President Guebuza refuse to step down as party leader before the next Presidential and Parliamentary elections in 2014. In the wake of the party elections, the two favourites for the prime ministerial position, former Finance Minister Louisa Diogo and former Prime Minister Aires Ali lost their cabinet positions to a politburo newcomer, Alberto Vaquina. This has been interpreted as a strategic move by Frelimo to signal early their preferred candidate for the coming presidential elections in 2014.
Since the shock of the cabinet upset has subsided, there appears to be a laissez-faire 'business as usual' approach from the donor community (known as the Group of 19) and foreign investors. Investments continue to flow into the country. In February 2013, President Guebuza held positive talks with Russia's Foreign Minister, Sergei Lavrov, the United Kingdom's Deputy Prime Minister, Nick Clegg, and South Africa's President Jacob Zuma. Granted some of these appointments took place under the umbrella of President Guebuza's chairmanship of the Southern African Development Community (SADC). However, it is also a tacit acknowledgement of Frelimo's continued dominance of Mozambique's political landscape.
Socio-economic hurdles
Even with high levels of Foreign Direct Investment (FDI) and Official Development Assistance (ODA), the country still has a number of hurdles to cross before it can be considered a successful economy and consolidated democracy. Having bucked the recent downward global economic trend to maintain a healthy average of 7% economic growth since 2008 – largely due to recent resource discoveries – Mozambique still faces significant challenges of poverty, income inequality and unemployment – with an absolute poverty rate, according to the United Nations, of 45%.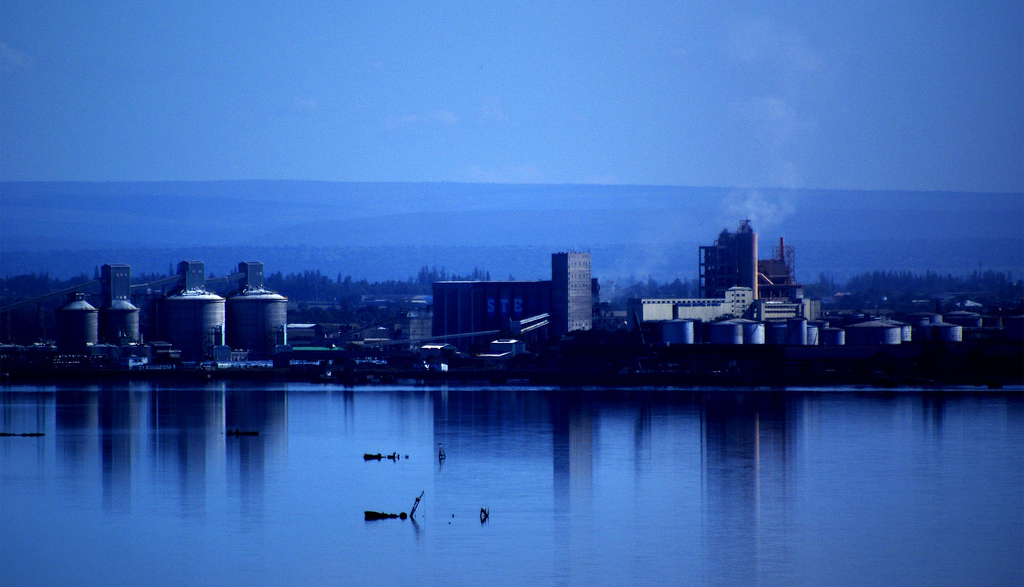 Photo: Maputo's industrial zone © Nuno Ibra Remane
President Guebuza's acceptance speech at last year's Frelimo congress, acknowledged citizen's demands for socio-economic equality. In his presentation on the status of the economy, he articulated achievements in this regard by informing congress of the 1.6 million new jobs that were created in the previous 5 years. The President also reported that between 2006 and 2011 per capita income rose by 48%. However, still residing at a low base of only $535 per annum, Mozambique continues to be one of the least developed countries in the world. This does suggest that the country is faced with crucial challenges and must deal with these in order to get on a sustainable growth and development path.
Constraints to development
The African Development Bank's (AfDB's) Country Strategy Paper 2011-2015 points to Mozambique's lack of economic diversification, weak institutional capacity, high costs of financing, opaque regulatory processes, a poorly qualified workforce and deficient infrastructure development as key constraints to development.
Mozambique is ranked 138 out of 144 countries in the World Economic Forum's 2012-2013 Global Competitive Index, making it among the top ten most uncompetitive economies in the world. As a result, the potential of the domestic private sector to create jobs is constrained. Small Medium and Micro Enterprises (SMMEs) need to be cultivated. Their growth can benefit significantly from simplified regulatory frameworks for SMMEs and improved access to financing. Capacity building to absorb this financing is also a necessary step to improve the business environment and ultimately spur employment.
Crucially, the environment remains constrained by a crippling domestic skills shortage that is a result of poor quality education, insufficient access to education and inadequate linkages between existing curricula and market demands. According to a 2009 World Bank report on professional services and development in Mozambique, only 40 in every 100 000 people in Mozambique are enrolled in higher education institutions. In Botswana this figure is 596 per 100 000, emphasising the acuteness of the problem for Mozambique when compared to the rest of Southern Africa.
Furthermore, 45% of all university-educated Mozambicans live abroad – mostly in Portugal and South Africa. In 2003, 0.6% of Mozambican wage-earners in the private sector had completed tertiary education, while 6% of the labour force had completed secondary education or technical training. Intense challenges to skills development face the Mozambican government in the short, medium and long term. Tackling the skill shortage could significantly alter the future direction of the country in a positive way.
Unlocking the region
While one possible way to address the skills shortage is to encourage technology and skills transfer in development and commercial projects, another solution lies with a more strongly focused African strategy. Bordering Zimbabwe and South Africa, Mozambique is well-located to draw on resources from its immediate region – particularly in the area of scarce skills. Regional frameworks like the 2007 SADC Protocol on Education and Training could be better utilised to train highly-skilled Mozambican professionals in priority industries. The protocol calls on the region to address its skills deficit by pooling its educational resources. One of these interventions includes the creation of regional centres of specialisation that build capacity for regional training institutions to offer education and training programmes in critical and specialised skills, providing an opportunity for Mozambicans to draw on the resources of the region.
Despite the Anglo-Lusophone divide, African investors in Maputo are drawing on Zimbabwean and South African skills to carry out their operations. However, they remain constrained by investor-unfriendly labour regulations which place caps on foreign labour which ranges from 10% for small firms to 5% for large firms. This cap applies across all industries, despite the fact that industries in sectors such as information technology, engineering, accounting, auditing and legal services experience more acute constraints. In other parts of the region, like Botswana and South Africa, migration of skilled labour is regulated according to the industry, making it comparatively easier for foreign skilled professionals in priority industries to obtain employment. In Mozambique, lengthy and uncertain bureaucratic processes to obtain permission to exceed these caps often also leads to delays in filling vacancies or in some instances to vacancies not being filled.
While the idea behind the legislation is to encourage the employment of domestic labour, restrictions to foreign employment could also hurt growth by penalising industrial users of professional services, constraining the flow of information and transfer of new technologies and even denying local professionals learning opportunities. Foreign labour not only provides opportunities for sharing information but for skills transfer by engaging with workers in a local education and training context.
Mozambique stands to gain from a more liberal policy on foreign labour. This warrants a re-think by the government on how it can optimise the country's development in the immediate future by linking its foreign investment and socio-economic development strategies more closely with that of its region. It could also attempt to strengthen the obligation on foreign investors to transfer skills and technology while also encouraging greater interaction between professional associations or guilds in the region. Professional exchanges of this nature would help standardise the quality of skills across the region through increased information flow. Temporary professional exchanges across borders could also be investigated. Mozambique would also stand to benefit from expanding its public-private partnerships from infrastructure development projects into other sectors. This, combined with requirements for vocational training of Mozambican workers would also address some of the skills challenges in the country.
Challenges ahead
Mozambique faces structural and systemic challenges. However, the country also stands at the precipice of prosperity. Sustained economic growth means that the country's potential remains positive. This largely hinges on the government's ability to maintain political stability in a way that strengthens good governance and accountability and that addresses important bottlenecks like its skills deficit – through for instance, a more liberal policy on foreign employment. The region offers Mozambique a number of opportunities in the short, medium and long term that it would do well to explore.