French Foreign Minister Alain Juppé speaks at SAIIA on "The New Global Governance"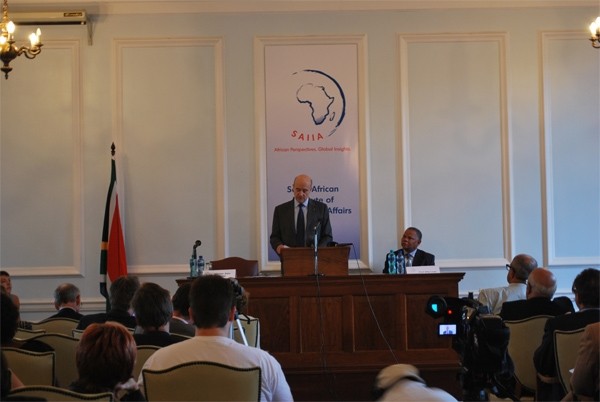 On the first day of his recent visit to South Africa, veteran politician and current Foreign Minister of the French Republic, Alain Juppé spoke at the South African Institute of International Affairs on Thursday, 10 November 2011, before traveling to Pretoria to meet President Jacob Zuma.
Juppé provided the large and widely representative audience at Jan Smuts House with an exposition of how France sees its relationship with Africa and South Africa against the background of a changing global governance system. While emphasising the importance of Africa and South Africa to France in dealing with continental and global problems, he was not uncritical of some of the positions South Africa has taken in international forums. He questioned South Africa's vote at the United Nations Security Council (UNSC) against the imposition of sanctions on Syria, saying that the ANC had once sought international support for sanctions against the apartheid government.
"The South African people represent the legacy of the African National Congress, which called on the international community to impose sanctions against the acts of the small minority flouting fundamental Human Rights. How could the South Africans turn a blind eye to the distress of the Syrians? How could they remain impassive in the face of the crimes against humanity that are being committed in Syria? The Syrian people also have a right to freedom and democracy," Minister Juppé stressed to the audience.
He also pointed out that South Africa's initial support of UNSC Resolution 1973 on Libya may have been seen as controversial but emphasised that the resolution was based the established doctrine of the responsibility to protect the civilian population.
Other issues Minister Juppé touched on include French support for UNSC reform which will give Africa a greater and more appropriate voice in global security issues through permanent and non-permanent seats. He also mentioned the need for the African Union to speed up its decision-making processes.
The speech provides a valuable insight into developing and refining the mutually beneficial relations between France and South Africa.
The full text of the speech is available here.
Watch parts of Minister Juppé's speech on Business Day here.