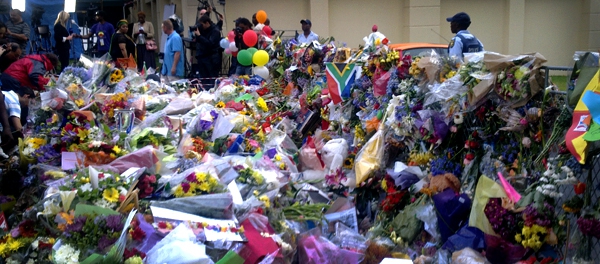 Tata left us on 5 December 2013, a few months before we celebrate 20 years of South Africa's democracy, and hold our fifth democratic elections. Since then my memories of a February, 24 years ago, in 1990 have flooded back to me.

I was a student at Wits University in Johannesburg, finishing my Honours degree dissertation in international relations. The campus was preparing for the start of the new academic year, and Orientation Week is always characterised by much revelry. But this year it was different. On 2 February 1990, President FW De Klerk had announced the unbanning of the ANC and the imminent release of Nelson Mandela.
A few years earlier, as a first-year student at the height of the state of emergency, I had been enlisted by a student organisation I had just joined to stick black tape over photos of Madiba and other national liberation leaders in a student magazine that had not observed the censorship laws which prohibited displaying photos of members of banned organisations and political prisoners. But in February 1990, student organisations that four years earlier had run the gauntlet of the state security apparatus, were testing the winds of change that De Klerk's speech had swept in… and that's how I got my first ever T-shirt of Mandela.
The T-shirt depicted the young Mandela of the Rivonia trial with the headline 'Mandela Free'. Free Mandela, the campaign that had galvanised the international community for decades, had now been realised.
Four years later, on 26 April 1994, I was at the Johannesburg Civic Centre to celebrate the birth of a new nation and witness the raising of the rainbow flag of South Africa as the clock ticked over into the dawn of democracy. The next day, taking advantage of the fact that South Africans could vote at any polling station they chose in the 1994 election, some friends and I set off for Soweto where we cast our first votes in a democratic country.
In the 20 years since, as South Africa gradually settled in to becoming just another country, the sensations of those early years have faded. We have returned to the tedium of everyday existence – the lofty ideals of political and socio-economic transformation still a faraway cry from the everyday existence of the poor; the moral integrity of a peaceful negotiated settlement undermined by social fragmentation and elite aggrandisement; and the visionary leadership of the early days a distant memory.
But on the evening of 5 December these realities were thrust into the background. For a little while again, we are able to relive those transformative moments of the last decade of the 20th century that laid the foundations for a peaceful, united South Africa.
The country's transformation was not the work of one man alone; many people from various political organisations and movements toiled to bring about the political transformation. Nevertheless, it was one man who had the power and moral force to bring the country back from the brink on that Easter weekend in 1993 when Chris Hani was assassinated, and to champion nation-building and reconciliation over hatred and division as President. Madiba became our father and grandfather – he left an indelible mark on both friend and foe, converting even opponents to ardent supporters. He sacrificed 27 years for social justice and non-racialism and through his example showed the potential of each one of us to make a difference.
When our outpouring of grief at his passing has run its course, and we all return to the mundaneness of our routine and daily struggles, what lessons do we take away? Can we recapture the magic and euphoria, the 'can-do' attitude and above all the values of equality, justice and freedom?
Can we recapture a sense of common purpose when tackling unemployment, poverty, inequality? Can we rise to our responsibilities rather than indulge in blame games? Can we recover our entrepreneurial spirit in solving intractable problems? Can we strengthen the institutions that define our constitutional democracy? Can we rediscover our humanity, especially for those less fortunate? And can we learn humility and wisdom even when we exercise inordinate power?
Perhaps in his passing Madiba has given us one more opportunity to reflect on our conduct at a moment in our history when our social cohesion is at its most fragile and our nation-building project at the mercy of extremes that rush to fill the void of crushed expectations. Let's recover a little bit of the pragmatic idealist we all were in those days 20 years ago, and which we remembered with nostalgia in the hours since Madiba left this world.
Elizabeth Sidiropoulos is the Chief Executive of the South African Institute of International Affairs.