Speakers gushed about the growth in African economies, the improvements in domestic governance, Africa's increasing ability to attract foreign investors, and their sense that Africa's role in the global economy is growing. There was also a recognition that Africa's increasing integration into the global economy is creating challenges—for example, the current global economic governance arrangements are not particularly responsive to Africa's needs and constrain African economies' ability to grow and develop in sustainable and equitable ways.
 The issue of global economic governance, which this month will be high on the international agenda because of both the G20 Summit in Mexico (18-19 June 2012) and the United Nations Rio+20 conference in Brazil (20-22 June 2012), is of particular relevance to South Africa. It is the only African country to belong to both the G20, and the BRICS, the most significant emerging states governance forum. Based on the discussions at the AfDB Annual Meeting, three considerations should guide South Africa as it seeks to fulfill its resulting responsibilities in international forums such as the G20 Summits.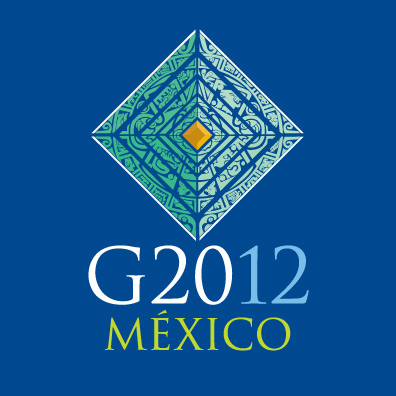 Image: Official logo of the G20 Summit being held in Los Cabos, Mexico this year. © UN Multimedia
First, South Africa must both represent its own citizens in these forums, and advocate for African interests to the other participants in these meetings. In one sense this is an unfair burden on South Africa. No-one expects other G20 members to represent their region—for example; Indonesia is not expected to represent the ASEAN group of countries or India to represent South Asian interests. On the other hand, the future wellbeing of the people of South Africa is inextricably linked to that of the rest of the continent. Consequently, we have an interest in ensuring that these global economic forums understand and pay appropriate attention to the concerns and priorities of the African continent.
Second, South Africa can only be an effective advocate for African interests, if it both knows what these interests are and understands how they relate to South Africa's own priorities for these meetings. This is a tall order. While Africa, as a continent, has some common interests and concerns, it is also a collection of 54 sovereign states, each of which has its own set of challenges, dynamics, and interests. This means that for South Africa to understand and advocate for Africa's priorities in global economic governance it needs mechanisms for consultation with the rest of the continent. Currently, there are some formal mechanisms that contribute to this effort—the C10 (a committee of 10 Ministers of Finance and Central Bank Governors) and such pan African institutions as the African Union, the AfDB, NEPAD, and the UN Economic Commission on Africa. However, these need to be strengthened. Moreover, Africa's interests cannot be fully understood without the active participation of civil society. Thus, these formal bodies must be supplemented by multi-stakeholder initiatives that allow a diversity of non-governmental voices to contribute to defining African interests. These non-state actors can also provide expert research and analysis to support this African effort.
Third, South Africa, as Africa's advocate, must ensure that the other participants in these elite global economic governance forums understand that Africa is a full, creative, and active contributor to global efforts to address the numerous challenges that face the global community and is not a supplicant that only needs aid and moral support from the international community. In fact, South Africa does sometimes play this role— for example; it is the co-chair and an intellectual leader in the G20's development working group. However, there are other areas in which Africa can help lead the world in formulating sustainable and equitable solutions to the numerous and profound social, economic, and environmental problems that our global community faces. These range from developing the regulatory framework to fully exploit the poverty reducing potential of cell phones in areas such as banking and public health to dealing with the challenges of food security in environmentally stressed and economically volatile situations.
Africa is beginning to address its numerous challenges and to work towards ensuring lives of dignity and opportunity for all its citizens. The fast-changing arrangements for global economic governance can either hinder or support Africa's efforts. In order to ensure that they support its efforts, Africa needs to mobilize all its governmental and non-governmental resources in a joint effort to clearly articulate Africa's views on the global economic governance agenda and to assist South African officials to effectively fulfill their dual responsibilities as South Africa's representatives and Africa's advocates in all the relevant global governance forums.