Young African Leaders Initiative (YALI) town hall meeting
On Saturday 29 June 2013, President Obama held a Young African Leaders Initiative (YALI) town hall meeting at the University of Johannesburg's Soweto Campus. YALI was launched in 2010 as an initiative to develop and invest in the next generation of African leaders.
At Saturday's meeting, President Obama praised young people across Africa for taking ownership of the challenges faced by the continent, as well as showing commitment to developing the continent. In the meeting Obama answered questions from the South African audience as well as questions from youth in Kenya, Uganda and Nigeria. Some of the issues raised by the youth included African trade partnerships, environmental sustainability as well as the growing strength of the African continent. Click here to watch the official video of the address.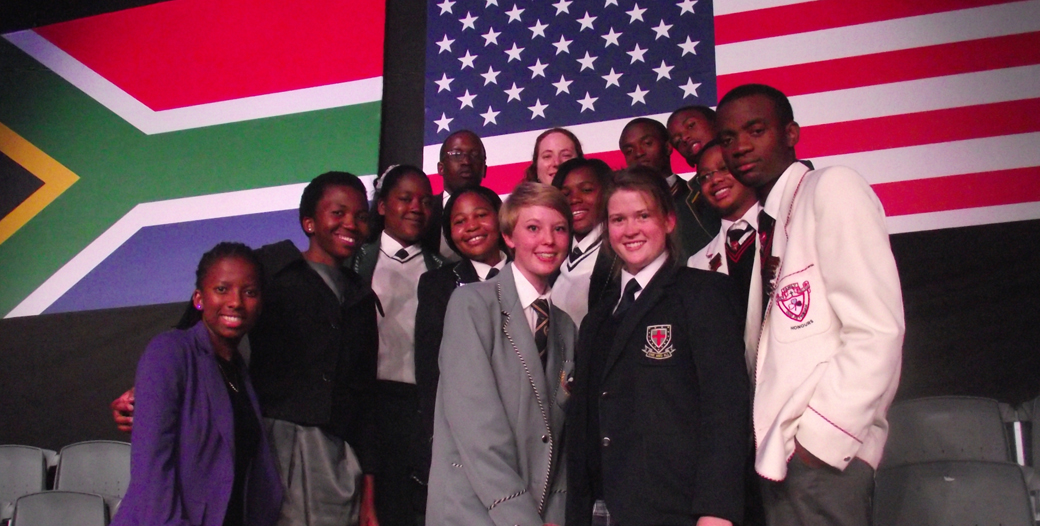 SAIIA's young leaders were extremely excited to take part in the day and hear President Obama address some of the issues that they engage with in SAIIA's Environmental Sustainability Project, Model United Nations programme and annual Young Leaders Conference.
"What I found really interesting was President Obama's stance towards trade and his desire to see Africa become an independent trade partner to the developed world. […] The president's emphasis on environmental sustainability stood out for me especially as I participated in the 2012 Environmental Sustainability Project, where my team focused on ways in which to achieve sustainable development."
— Irene Mpofu, learner at Pretoria High School for Girls
"America, like most countries throughout the world has become aware of the reality that South Africa is an economic gateway into Africa and that strengthening relationships through dialogue, improving infrastructure and African economies as well as reducing poverty is a very important undertaking. Having participated in the Model UN programme through SAIIA, I have become more knowledgeable and aware of the importance and implications of such an occasion."
— Cebo Nyama, learner at Bona Comprehensive High School
"Watching Obama, I realised that what we do in Model UN is extremely similar to the real world. The diplomatic talks, and the addressing of countries, take the same format as that used in Model UN debating. As a young person I am looking forward to becoming involved in this world and making a difference too."
— Alexandra Cole, learner at St Stithians Girls' College
"It is always amazing to find yourself right in the middle of the events or situations you spend years studying, when you realize you are right in the middle of an internationally significant moment. Seeing President Obama at the African Young leaders talk was one such moment. I am currently working at SAIIA with a research programme that looks at the African Peer Review Mechanism (APRM) and governance issues on the continent. Hearing President Obama acknowledging the APRM as a revolutionary and commendable program that ensures better African governance will only serves to reinforce the importance and relevance of my work."
— Matshaba Mothiane, student at WITS University and KAS-SAIIA Intern
"From the meeting it was evident that many young Africans are concerned with Africa's engagement with the developed world. This sort of event highlights how youth are critically engaging with issues that have been traditionally left to policymaking spaces and how more programmes such as the Environmental Sustainability Project and Model UN are needed to provide a regular platform for learners to further interrogate and unpack these issues. It would be great to see more of this type of engagement taking place with local and regional leaders."
— Zamangwane Ngwane, student at WITS University and Youth@SAIIA Intern
Connecting Continents: A Conversation with First Lady Michelle Obama on MTV Base
While a number of Youth@SAIIA participants were at the town hall meeting with President Obama, another young leader from Youth@SAIIA was chosen to participate in a special discussion with First Lady Michelle Obama.
Selected from hundreds of learners, Tebogo Tenyane from Orlando West High School joined the First Lady on a special broadcast of MTV Base. Broadcast throughout Africa, the programme also virtually connected with young people in various US cities. A major theme of the First Lady's remarks and later conversation with the learners was education.
As an aspiring teacher, Tebogo feels passionately about education: "It was so great meeting the First Lady and finding out that we are both striving to let the world know the importance of teachers globally." Tebogo has recently been preparing to participate in a SAIIA Model United Nations conference addressing Millennium Development Goal 2, Achieving Universal Primary Education. He looks forward to continuing to push not only his fellow peers, but global leaders to place quality education for all learners on the Post-2015 global agenda.
Click here to read the full story on the website of MTV Base.
In 2011 the Environmental Sustainability Project was made possible by the U.S. Department of State Innovation Grant and Sasol. Since 2012 Sasol has become the primary sponsor of this programme.