As part of the conference, the delegates (58 high school learners and 17 university students) will host their own youth negotiation sessions under the theme 'Connecting the past to the present: Young South Africans shaping a sustainable future'. The negotiations will culminate in the handover of the 2016 Young Leaders Declaration to the Presidency on 30 June. A youth dialogue will also be held on 30 June with the Department of International Relations and Cooperation.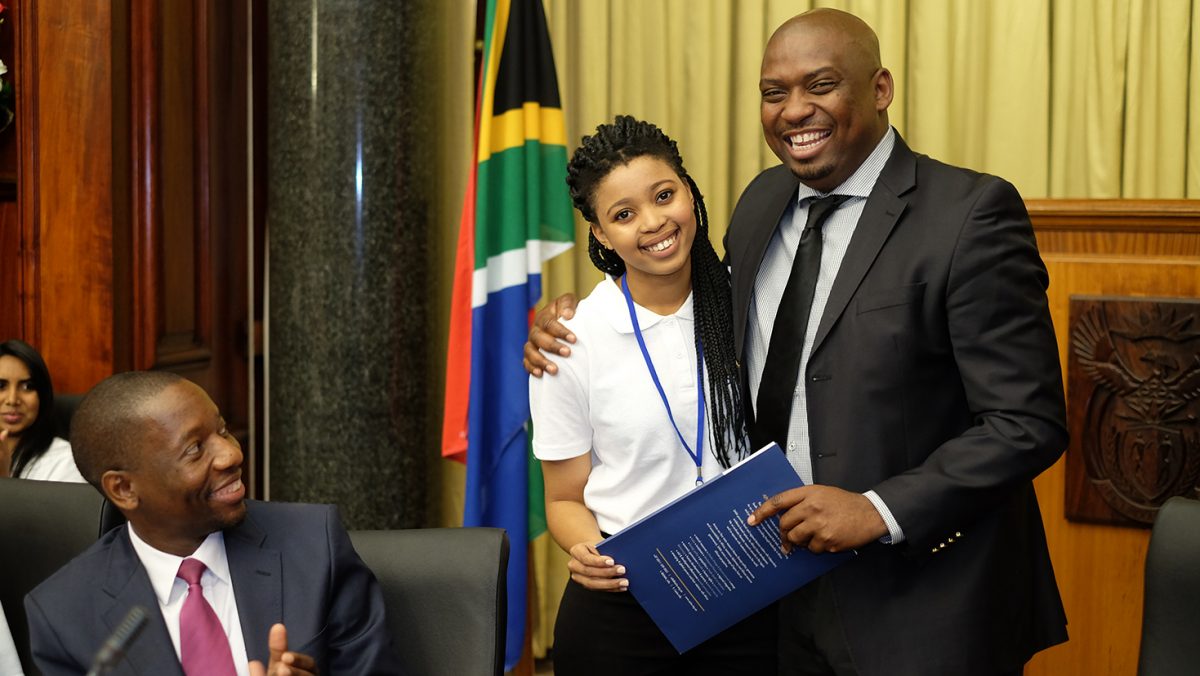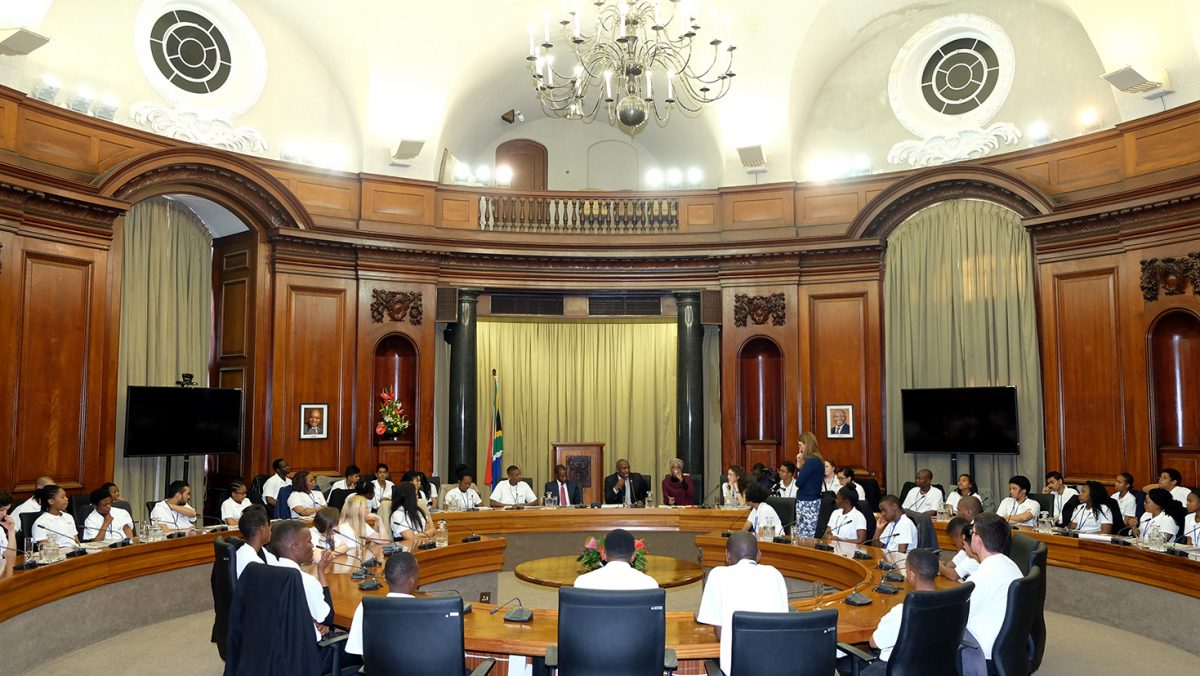 The handover of the 2016 Declaration to Deputy Minister Buti Manamela, at Union Buildings (Photos © Willem de Lange/SAIIA)
Read the 2016 Young Leaders Declaration.
Throughout the Conference, SAIIA is sharing examples of inspiring young leaders, and encouraging others to do the same on Twitter, using #YouthAreLeading.
See photos from the opening of the conference with Deputy Minister Buti Manamela here. Read the Deputy Minister's keynote address here, or read an article of the highlights, 'Youth a catalytic force behind Agenda 2063.'
Watch video clips of the youth presentations at the Department of International Relations and Cooperation.
Listen to Youth@SAIIA's Kenneth Diole speak about 'The legacy of June 16 for today's South Africa' on PowerFM. Listen to AlexFM interviews with conference delegates Sarah Abrahams from Cape Town and Phathushedzo Nekhavhambe from Venda.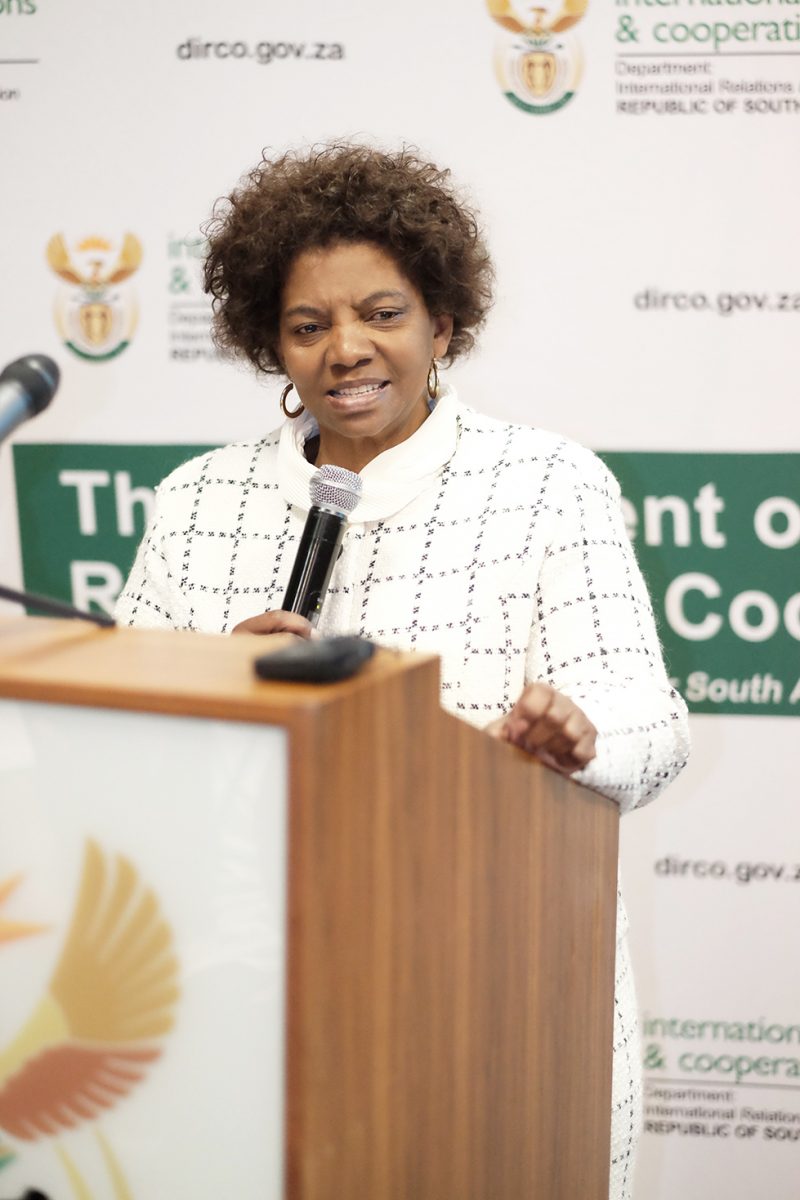 Youth dialogue with Deputy Minister Nomaindiya Mfeketo at the Department of International Relations and Cooperation. (Photos © Willem de Lange/SAIIA)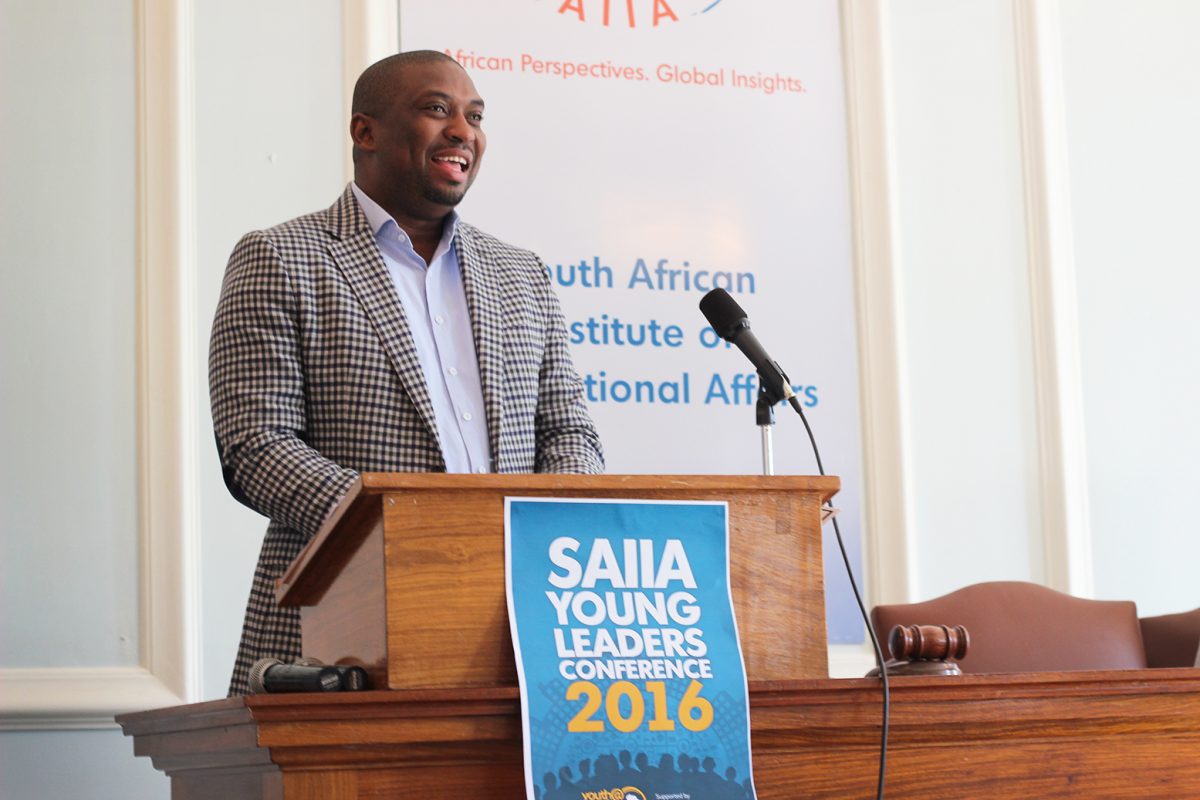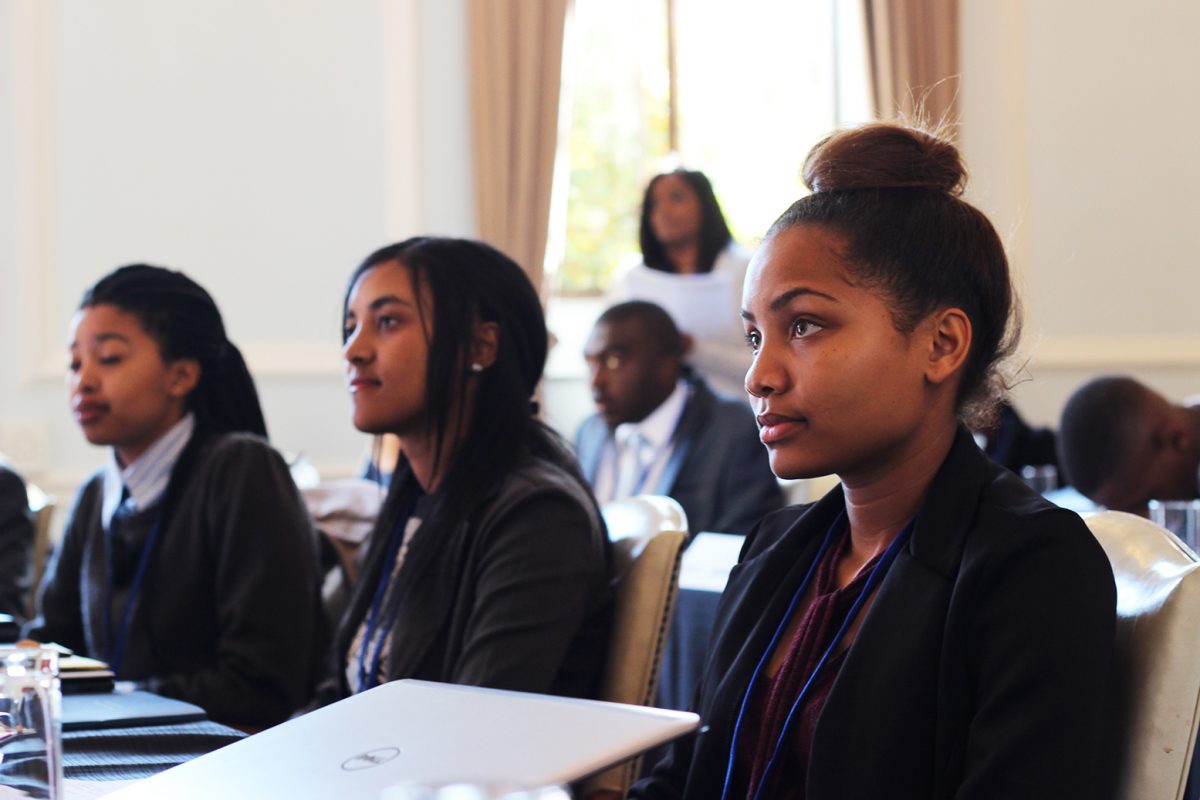 Deputy Minister Manamela opening the 2016 conference (Photos © Riona Judge McCormack/SAIIA)
Delegates have been divided into committees based on South Africa's three spheres of government and will be discussing the implemention of the new Global Goals for Sustainable Development, the Paris Agreement and Agenda 2063. During the conference representatives of government, the United Nations, various diplomatic missions, civil society organisations, businesses, and universities will be joining us as speakers, mentors and observers to the conference. Visits to cultural sites, as well as corporate, government, and organisation offices are also being arranged.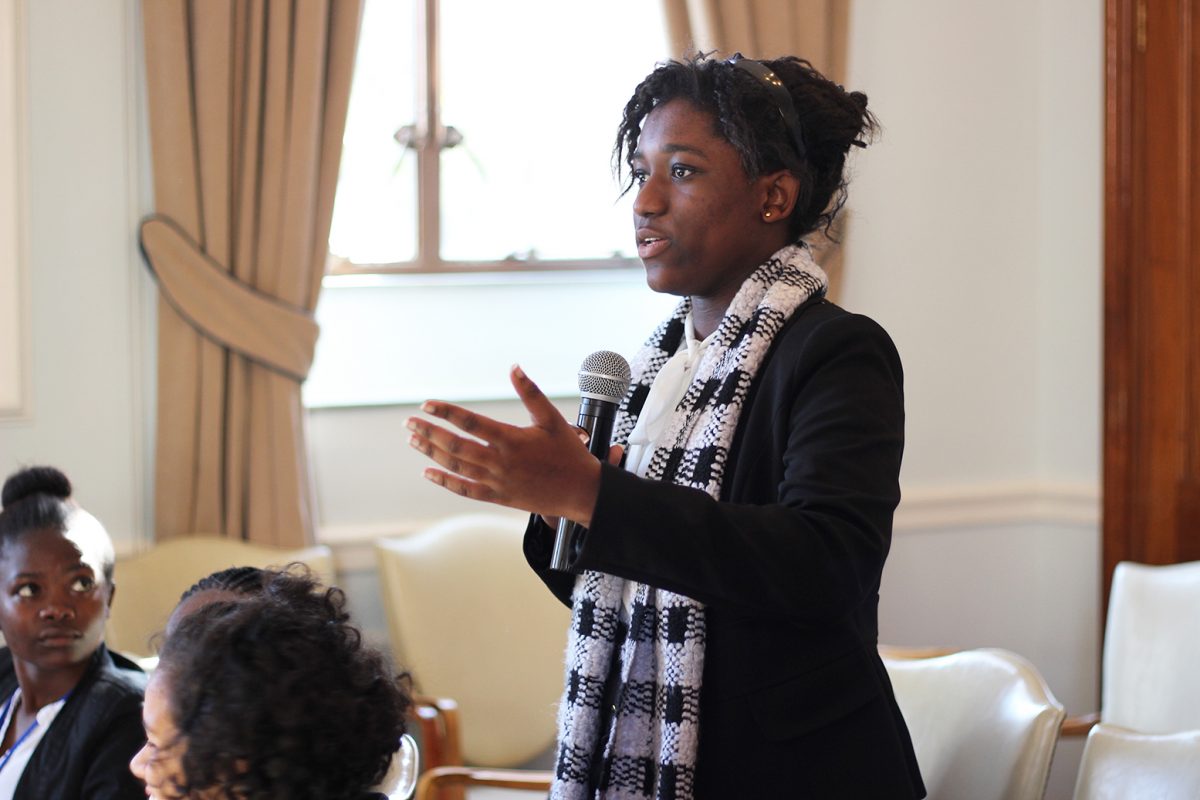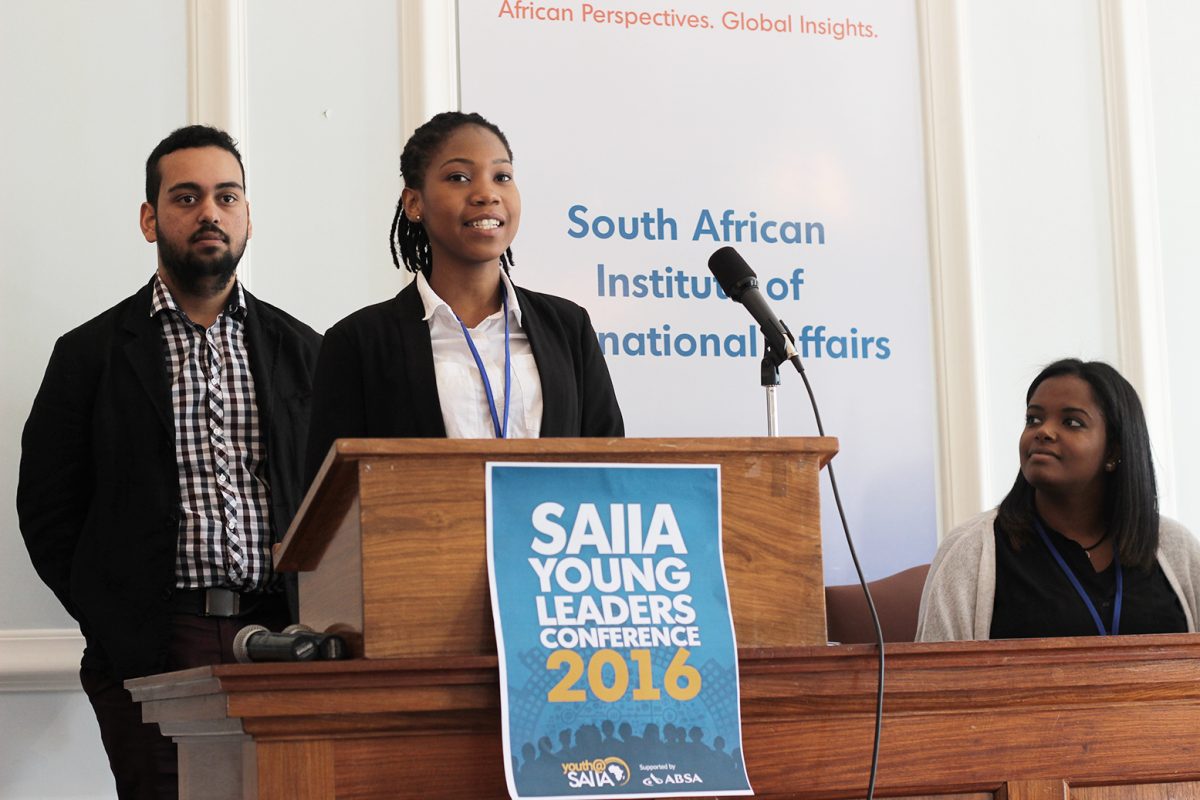 Youth delegates addressing their fellow delegates during the 2016 conference (Photos © Riona Judge McCormack/SAIIA)
Agenda for the 2016 Conference
26 JUNE 2016
27 JUNE 2016
09h00-11h00: Welcome remarks by Desirée Kosciulek, Youth Programmes Manager and SAIIA Youth Policy Committee
09h10-9h20: An international perspective, by Brad Bélanger, Political and Economic Counsellor, Canadian High Commission
09h20-9h30: Welcome from sponsor – Mazechaba Tekana, Absa
09h30-9h50: Keynote address – Deputy Minister in the Presidency for Planning, Monitoring and Evaluation, Youth Development and Administration, Buti Manamela
09h50-10h.30: Commencement of negotiations: Opening statements by the Committee Chairs of the 2016 SAIIA Young Leaders Conference
11h00 – 15h00: Youth negotiations
15h00-15h20: The role of cities in international forums, by Thomas Coggin, Lecturer, University of the Witwatersrand and Editor of Urban Joburg blog
15h20-15h40: Local government and the Paris Agreement, by Telly Chauke, Specialist: Environment & Climate Change, SALGA
15h40-16h30: Questions
Evening event
28 JUNE 2016
09h00-11h00: UNICEF launch of State of the World's Children Report: Focus on Inequity, with UNICEF Country Director for South Africa Hervé Ludovic de Lys (listen to his interview with AlexFM)
09h30-9h50: Inequities in South Africa, a journalist's perspective, by Mail & Guardian journalist Pontsho Pilane (listen to her interview with AlexFM)
10h10-11h00: Dialogue with SAIIA Young Leaders
11h00-17h00: Youth Negotiations
29 JUNE 2016
9h00-11h00: Day 3 Plenary Session
11h00-onwards: Youth negotiations, finalising the 2016 SAIIA Young Leaders Declaration, and preparation for presentation event in Pretoria
30 JUNE 2016
10h00: National Handover of the 2016 Young Leaders Declaration to the Deputy Minister in the Presidency, Mr Buti Manamela (Union buildings). Media may contact Matshepo Seedat on +27 82 6799473/ Matshepo@dpme.gov.za to RSVP for the event.
14h00: Youth Dialogue with the Department of International Relations and Cooperation (DIRCO offices). Media may contact Patience Mtshali on MtshaliP@dirco.gov.za to RSVP for the event.
19h00-22h00: Celebration Dinner
1 JULY 2016
Watch the video above to hear how high-school learners Lindokuhle, Melanie, Shu-ting, Raeesa and others have been transformed by their experience in the Young Leaders Conference.
Delegates to the conference
Learners, students and out of school youth 14-25 can be invited to participate in the SAIIA Young Leaders Conference in the following ways:
All delegate costs are covered by SAIIA.
History of the Conference
In 2011, SAIIA brought together a group of outstanding learners from across the country to Durban to participate in their own negotiation session at the United Nations Climate Change Conference, COP 17. Participant delegates created the South African Durban Youth and Children's Protocol which was resented to the Minister of Women, Children and People with Disabilities. To continue to build on the work done by our 2011 participants and to create more spaces for young voices to be heard, SAIIA created the first Young Leaders Conference in 2012. For more about the conference and its history, click here.
Conference committees
For the negotiation sessions delegates will be assigned a specific committee and a specific role to represent and research. Research perspectives are based on work already done through participation in Model UN, the Environmental Sustainability Project, the Quiz programme, or the Youth Policy Committee.
Select videos will be posted on our Youth@SAIIA Facebook and Twitter pages, our YouTube channel, and our sponsor websites. Examples from previous years can be found on the Youth@SAIIA YouTube channel.
Contact Information
Youth Programme Manager: Desirée Kosciulek
Tel: 011 339 2021 (ext. 134)
Fax: 086 295 1064
Cell: 072 685 7746
E-mail: youth@saiia.org.za
Media Enquiries
Fortunate Xaba
SAIIA Communications Assistant
Cell: +27 (0) 81 086 6303
Email: media@saiia.org.za