Materials
Listen to interviews with the participants:
What is the single biggest achievement of the APRM in its first decade of existence? Click here to download the podcast, part 1
What new aspect would they introduce to the APRM or what existing aspect would they change, if they had the decision-making power? Click here to download the podcast, part 2

About the May APRM +10 CSO Conference:
The conference will be held ahead of the meeting of the APRM Forum of participating Heads of State and Government and the OAU/AU 50th Anniversary celebrations in Addis Ababa, Ethiopia in May 2013. The symposium is intended to add value to the 50th anniversary celebrations of the OAU/AU themed: Pan Africanism and the African Renaissance. The APRM + 10 CSO Conference will attract CSOs working on African issues as well as African institutions and AU organs, with a primary focus and mandate on governance, human rights and development issues. We aim to bring together a diverse grouping from across the African continent to discuss the progress made by the APRM, the roles and experiences of CSOs within the ARPM process, and the challenges and opportunities that the continental initiative faces, both at a national, regional and continental levels.
Click here to read the press release from the Colloqium.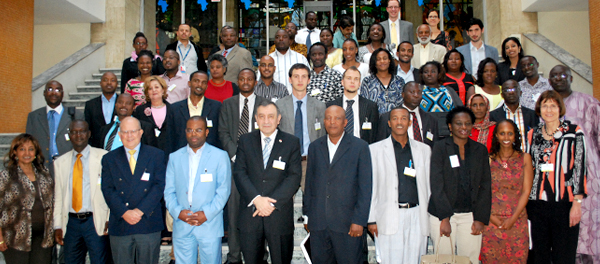 About the APRM:
The APRM, established in 2003, shows a unique peer review process, which no other regional grouping has. To date 33 countries have signed up. These include Algeria, Angola, Benin, Burkina Faso, Cameroon, Chad, Djibouti, Egypt, Ethiopia, Gabon, Ghana, Kenya, Lesotho, Liberia, Malawi, Mali, Mauritania, Mauritius, Mozambique, Niger, Nigeria, Republic of Congo, Rwanda, Sao Tome & Principe, Senegal, Sierra Leone, South Africa, Sudan, Tanzania, Togo, Uganda and Zambia. 17 countries have completed their reviews. These include Ghana, Rwanda, Kenya, South Africa, Algeria, Benin, Uganda, Nigeria, Burkina Faso, Mali, Mozambique, Lesotho, Ethiopia, Sierra Leone, Zambia and Tanzania. However, challenges still loom large over the mechanism's endurance in the face of uncertainty, at several levels. The way and manner in which the process has been implemented in different countries point to differing motives by individual countries in engaging with the APRM. And whilst some countries have shown strong political commitments to ensuring that the process is transparent and participatory, others have engaged in a cosmetic exercise of merely 'going through the motions', with no real intensions of implementing recommendations. AfriMAP, EISA and SAIIA have worked on the APRM since its inception and have researched, published and engaged in partnerships and high level advocacy on the APRM process at national and continental levels.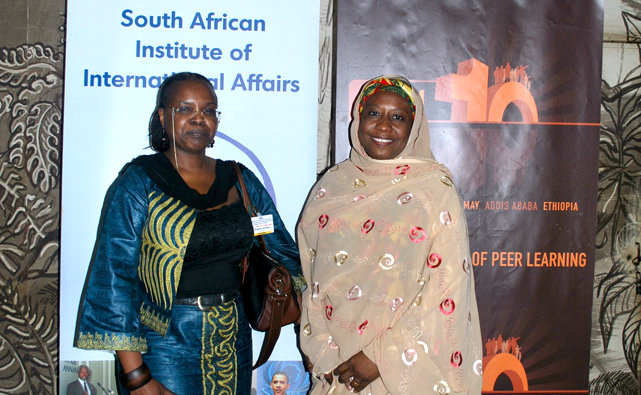 The Partners:
AfriMAP, the Africa Governance Monitoring and Advocacy Project, is an initiative of the Open Society Foundations and works with national civil society organizations to conduct systematic audits of government performance in three areas: the justice sector and the rule of law; political participation and democracy; and effective delivery of public services. It also conducts reviews of the APRM processes, as well as assessments of electoral management bodies and roles of state broadcasters in Africa.
EISA, the Electoral Institute for Sustainable Democracy in Africa, is a non-partisan international non-governmental organisation which was established in 1996. Its core business is to provide technical assistance for the capacity building of electoral management bodies, political parties, parliaments, relevant government departments and civil society organisations operating in the democracy and governance fields throughout the African continent. Headquartered in Johannesburg (South Africa), the Institute's current and past field offices include Angola, Burundi, Chad, Côte d'Ivoire, Democratic Republic of Congo, Egypt, Kenya, Madagascar, Mozambique Sudan and Zimbabwe, a reflection of its broader geographical footprint. EISA strives for excellence in the promotion of credible elections, citizen participation, and the strengthening of political institutions for sustainable democracy in Africa. Its vision is an African continent where democratic governance, human rights and citizen participation are upheld in a peaceful environment.
SAIIA, the South African Institute of International Affairs was founded in Cape Town in 1934. Since 1960 it has been located in Jan Smuts House in Braamfontein, Johannesburg. SAIIA focuses on current policy issues that affect Africa and the world more broadly. It has been ranked for the third successive year as the leading think tank in sub-Saharan Africa. SAIIA is used as a source by policy makers locally, regionally and internationally, as well as by the business, academic and diplomatic communities. Its mission is to provide cutting-edge analysis and promote balanced dialogue on issues critical to Africa's advancement and its engagement in a dynamic global context. The Institutes activities include, inter alia, making input into policy by engaging with government officials locally and internationally, undertaking field research on current issues of importance to South Africa and Africa in the realm of international relations. Disseminating evidence based information through targeted research conferences, policy meetings, high level round table events and through various publication avenues. SAIIA has been supporting work on the APRM since 2005.
Oxfam, Addis Ababa Office: in Addis Ababa Oxfam International has set up a Liaison Office with the African Union. Oxfam recognizes the African Union as a positive force for realizing social, economic, political and cultural rights of Africans. Over many years Oxfam has supported the emergence of strong civil society coalitions in Africa to engage and support the AU. The purpose of the Liaison Office is to further that work, in particular around cooperation on issues relating to: Achieving social and economic rights; Fighting poverty and HIV/AIDS; Promoting peace and security; Supporting the AU projects in the areas of good governance and information technology; Promoting gender equality and women's empowerment in Africa; Promoting economic policies and strategies for shared growth.
Click here to download the Concept Note.
Contact Details
For more information, please contact:
Jeggan Grey-Johnson (Media and promotions Coordinator)
Advocacy and Communications Officer
African Governance Monitoring and Advocacy Project (AfriMAP)
Jeggangj@osisa.org
Tel: +27 11 587-5000
Grant Masterson (Logistics Coordinator)
Manager: African Peer Review Mechanism
Electoral Institute for Sustainable Democracy in Africa
Grant@eisa.org.za
Tel: +27 11 381 600
Roseline Achieng (Conference Programme Coordinator)
Head: Governance and African Peer Review Mechanism Programme
South African Institute of International Affairs (SAIIA)
Roseline.Achieng@wits.ac.za
Tel: +27 11 339-2021 ext 151
Désiré Assogbavi (Conference Programme Coordinator)
Resident Representative and Head of Office
OXFAM International, Liaison Office with the African Union
desire.assogbavi@oxfaminternational.org
Tel: +25 11 1661-1601