Read a new article for the 2017 Mining Indaba, 'Commodity prices and investment prospects for African countries in a brave new world.'
The first, SAIIA's annual Roundtable for industry players, will take place on 7 February. It will center on how trusts can be used to achieve sustainable transformation that is genuinely more inclusive.
The recently-gazetted Mining Charter III stipulates trusts as the preferred vehicle through which workers and communities in the South African mining industry should receive benefits. Of the 26% black ownership stake required for companies to achieve empowerment status, 5% of that stake must be held in trusts. But how can trusts be designed and built to ensure that mineworkers and near-mine communities actually see benefits? A panel of experts representing the private sector, government and civil society will make short remarks on how best to achieve real empowerment in the industry. This will be followed by roundtable discussion and formulation of questions for the panel, after which the floor will be opened. The idea is to facilitate discussion on this important topic in a neutral space.
The second event, our Change Makers Forum on 9 February, is an annual high-level dialogue to promote extractive sector transformation in Africa. Co-hosted with the University of Cape Town's Minerals to Metals Programme, it is a neutral platform for bridging the divisions that continue to polarise mining discussions across Africa. This year will focus on how the mining industry can help achieve the global Sustainable Development Goals, and how the Africa Mining Vision might provide a framework for this. Senior participants will work together to identify practical, concrete steps that can be taken to strengthen mining's contribution to meeting the Goals. Similarly to our first event, roundtable discussions will follow the initial interventions to ensure as much audience participation as possible.
SAIIA experts will also be available throughout the Indaba for comment on the unfolding events. Follow updates on Twitter using #SAIIAMining, or contact media@saiia.org.za for interviews.
About SAIIA's mining work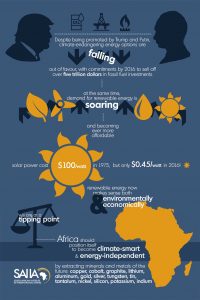 The extractive industries remain a central component of many African countries' growth strategies. SAIIA's Governance of Africa's Resources Programme (GARP) is committed to ensuring that mining contributes to inclusive and sustainable development.
We believe that how the industry is governed – at a continental, regional and country level – will largely determine whether the aspirations of inclusive, equitable and sustainable growth are realised. By inclusive we mean that access to economic opportunities flowing from mining should benefit a broad spectrum of the population. By equitable we mean that the benefit distribution should not be skewed towards favouring the elite. By sustainable we mean that both environmentally and financially, mining should not be an enclave industry that extracts and departs. It should generate benefits well beyond the life-of-mine and never damage the environment beyond repair, especially if the opportunity costs are high (in terms of ecotourism potential and biodiversity preservation, for instance). Both events that we are hosting contribute to these ends.
Related mining research
GARP has released several research papers that tackle the question of optimally governing extractive projects that yield development benefit at potential long-term cost to the environment, along with other mining research that speaks to the broader context of how to harness mineral extraction for inclusive and equitable development:
'Mineral rights, rents and resources in South Africa's development narrative'