Large metropolises such as Beijing, Shanghai, or Guangzhou are not only engines of growth but also seen as showpieces of modernity where processes of destruction and construction are simultaneously underway.
As part of China's public diplomacy that articulates the 'Chinese dream' (both verbally and displayed on large billboards), the Chinese government regularly organises focus group visits to showcase the country's economic achievements. If political parties from different geographical zones make up the bulk of these delegations, a more limited number are specifically aimed at journalists or academics. I recently participated in a seminar tour, by invitation of the Chinese Communist Party, bringing together delegates from various universities, think tanks and political parties scattered across sub-Saharan Africa (Ethiopia, Nigeria, Cameroon, Rwanda, Kenya and South Africa).
Our two-week long excursion, kicking off in Beijing and followed by stops in Yiwu, Hangzhou, Guangzhou and finally Dongguan, was structured around two broader themes: a display of China's economic success on the one hand and 'new opportunities for the China–Africa co-operation' on the other.
The carefully selected sites and interlocutors (from companies as well as different levels of government authorities) demonstrated how domestic economic shifts since the opening up and reform period are feeding into broader outside engagements.
In Beijing, we visited one of the biggest state-owned companies, the China Road and Bridge Corporation (CRBC), engaged in large infrastructure deals both in China and abroad. While banking on the completion of signature projects, such as the longest bridge worldwide, the company's international footprint is broad but mostly concentrated in Eastern Europe, Central Asia and, above all, throughout Africa with 22 branches.
The CRBC in itself is a model example, not only of the government's direct involvement in certain economic domains, but also of the growing push to globalise its activities while embracing the official 'One belt, One road' or 'the Economic Belt for the Silk Road' and the 'Maritime Silk Road for the 21st century' initiative unveiled by President Xi in late 2013.
Comprising land and maritime infrastructure as well as logistics components, this new strategy of engaging with the outside world seems to be eagerly adopted not only by companies – seeking to expand internationally – but also by sub-national authorities. Yiwu, a moderately populated municipal city by Chinese standards, with an official population count of just over one million, and best known for hosting the largest small commodities market in the world, is using the slogan of being positioned at the starting point of the 'New Silk Road'. Similarly, statements by the Zhejiang Development Planning and Research Institute and the Guangdong Foreign Affairs Office reinforced the impression that China's expanding economic links and exchanges with the rest of the world, are increasingly aligned with the 'One belt, One road' initiative.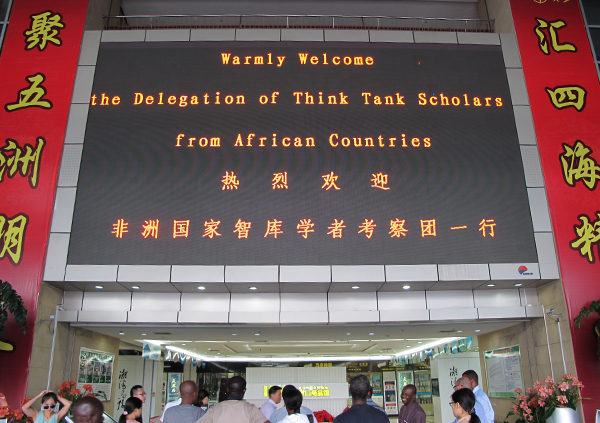 Delegates from Africa on the study tour of China, in the city of Yiwu. Photo © Romain Dittgen/ SAIIA
One might ask, where does Africa fit into this picture? Even though the sixth edition of FOCAC (Forum on China-Africa Cooperation) is taking place in South Africa at the end of this year, this triennial multilateral platform between China and African countries was hardly mentioned on our visit.
According to a senior official from the Chinese Communist Party, FOCAC will, far from being superseded, not only become the implementing tool of the 'New Maritime Silk Road' in Africa, but also receive more impetus at a sub-regional level. At the same time, while Africa's eastern coastline is included in the overall framework, there is still little information available about the actual implementation plans and how the rest of the continent might benefit from the initiative.
A tour at the Huajian shoe factory in Dongguan offered a more practical example of transnational engagement by a private Chinese firm that set up a factory plant near Addis Ababa in 2012. Following regular media coverage, both by CCTV and international news channels, the Chinese government constantly refers to this particular example to point out increasing levels of localisation, both of products (leather in this case) and labour.
Nonetheless, a visit to the Scientific and Technological Industry Park in Songshan Lake (located between Guangzhou, Shenzhen and Hong Kong) showed the current limits of technological transfer and relocating of industrial clusters into most parts of Africa in the absence of adequate infrastructure, financial support from government authorities and active partnerships between the business sector and universities. While there is a (very) timid start to move the manufacturing of basic products (such as shoes) to some parts of Africa, this is not happening for high-end technology. More generally, it also raises broader questions about present and future development paths throughout the continent; either from the bottom up (as some suggest) or rather by focusing on specialised economic niches.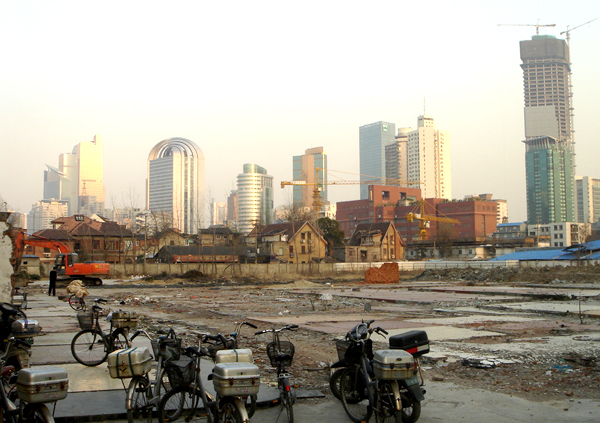 Urban renewal in the form of simultaneous construction and destruction, Shanghai. Photo © Romain Dittgen
Throughout the trip, most interactions with Chinese interlocutors, whether referring to domestic processes or those directly related to Africa, were framed around notions of development. At the same time, while increasingly adopting the standpoint of a global economic powerhouse, the Chinese government still shows signs of unease in fully assuming this position. Furthermore, the tension of both trying to play the role of development partner (i.e. for Africa) while facing its own economic challenges highlights China's geography of uneven development. Stops in Beijing, the core of political power, as well as in Zhejiang and in Guangdong, two of China's most economically integrated and outward-looking provinces, brought to light more than glimpses of the 'magnificent land', yet also revealed a multifaceted, broader story.
From an African perspective, it is certainly useful to take a closer look at China's broader development itinerary, but this picture should be more comprehensive. Understanding the related side effects such as rising levels of inequality, increasingly marginalised parts of the country that are left behind, worrying levels of environmental pollution, or the real estate speculation bubble is critically important. Additionally, the unbroken narrative of 'bromance' (friendship, mutual benefit and win-win) not only generates excessive expectations but also leaves a false impression of an all-controlling Chinese state in a Sino-African relationship made up by a multitude of actors and agendas.