Her visit is emblematic of her commitment to the US-South Africa Strategic Dialogue which was launched in April 2010. The goal of the Strategic Dialogue is to reinforce cooperation between the two countries in a variety of key areas and takes place in the form of an annual bilateral forum where US and South African officials review the work of various bilateral issue-based working groups and discuss the future of the bilateral relationship.
One of the main goals of the Strategic Dialogue is to further economic cooperation. A step forward was taken in June 2012 when US Trade Representative Ron Kirk and South African Minister of Trade Rob Davies signed a Trade and Investment Framework Agreement (TIFA). This serves as an amendment to the TIFA signed in 1999. Kirk said in a statement that the amendment agreement is to provide a forum 'to better exchange views on improving the trade and investment climate and promoting new US investment that is critical to South Africa's economic development.'
In 2011, trade between South Africa and the United States was valued at US$22 billion. China is South Africa's largest trading partner. However, America is by far South Africa's largest export destination.
According to US government statistics, American imports from South Africa reached US$9.5 billion in 2011, a 15.7 percent increase from 2010, compared to just under US$2.5 billion for China. The US imported items included automotive vehicles, machinery, iron, steel, platinum, diamonds, and ores. Just over half of these imports or $4.6 billion entered duty-free under the African Growth and Opportunity Act (AGOA), up US$1.5 billion from 2010.
AGOA was originally signed in 2000, allowing 37 sub-Saharan African countries including South Africa to export 65,000 items such as agricultural produce, textiles, artifacts and apparels, amongst others to the American market duty-free.
A major area of recent concern amongst African business and in government circles was the future of AGOA since it's terminal date was 2015. However, the US government put these fears to rest in June 2012 when it announced its plans to extend the Act.
This increased emphasis on economics in US foreign policy is visible in various mechanisms such as US President Obama's National Export Initiative that set a goal of doubling US exports worldwide. US exports to sub-Saharan Africa totaled US$21.1 billion in 2011, up 23 percent compared to 2010. American exports to South Africa grew to US$7.3 billion last year; a 29.5 percent increase from 2010. The main exports included machinery, vehicles, precious stones (gold), mineral fuel and electrical machinery.
Moreover, the White House revealed its new strategy towards Sub-Saharan Africa on 14 June 2012, which puts a large emphasis on partnership and trade over aid. It also lists four strategic objectives for American engagement in Africa, ie to:
strengthen democratic institutions;
spur economic growth, trade, and investment;
advance peace and security; and
promote opportunity and development.
America and South Africa have a mutual understanding regarding a number of these issues such as the promotion of democracy and human rights and the importance of development. Washington often praises South Africa's democracy and its constitution. While the pursuit of peace and security in Africa is one of South Africa's foreign policy pillars, it also serves America's interest in securing a stable, economically developing African continent. There is bilateral defence cooperation in the form of the Africa Contingency Operations Training and Assistance (ACOTA) programme run by the US Department of State. Washington assists South Africa, an ACOTA member, by providing selected training and equipment. Nevertheless, the true status of US-South Africa defence relations can probably best be seen via America's African Command better known as AFRICOM.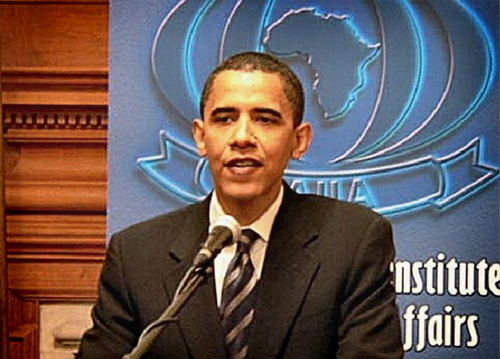 Image: U.S. President Barack Obama speaking at SAIIA during his visit to South Africa in 2006
Although South Africa was originally against the idea of AFRICOM when it was launched in 2008, arguably due to the militarisation of American foreign policy under President George W Bush, as well as fears of neo-colonialism, current defence cooperation between the two countries is robust. For example, US-South Africa bilateral visits are frequent as are major joint military exercises such as AFRICOM's 2012 'SOUTHERN ACCORD,' which trains US and African forces to conduct peacekeeping operations in sub-Saharan Africa.
AFRICOM officials, based in Stuttgart, Germany will be visiting South Africa in September for the 2012 African Aerospace and Defence Expo, Africa's largest trade and air show, being held at Waterkloof Air force base in Centurion. The US Embassy is again arranging a symposium to take place on 18 September similar to the first US-South Africa Defense Cooperation Symposium held in Cape Town in 2010. The event highlights how business-to-business discussions can contribute to bilateral defense cooperation and cooperation on regional issues throughout Africa. Large American companies that were in attendance in 2010 included Boeing, Lockheed Martin and Raytheon. It is likely that they will once again attend this year.
Non-proliferation is another arena where the two countries are constantly working together. US Deputy Assistant Secretary of State for Non-proliferation Programmes, Simon Limage, was in South Africa in June 2012, and highlighted South Africa's leadership within the region in promoting a strong non-proliferation regime, including through the Treaty of Pelindaba, which entered into force on 15 July 2009 to create a nuclear-weapon-free zone in Africa.
Limage also praised the South African Nuclear Energy Corporation by becoming the only company in the world to produce radio isotopes for medical purposes on an industrial scale, using a low-enriched uranium (LEU)-based process. This conversion was done with assistance from the US in South Africa's Safari research reactor in 2009.
In terms of nuclear energy, South Africa and the US signed a bilateral agreement in Vienna in September 2009 on cooperation in the research and development of nuclear energy. US-South African energy dialogues followed, with the most recent meeting taking place in January 2012 in Pretoria.
The Challenges
Not all in the US-South African bilateral relationship is positive, and one of the issues involves the nuclear realm. South Africa is one of several countries under pressure from Washington to either 'significantly reduce' imports of Iranian oil or face sanctions.
South Africa received a temporary reprieve when the US granted South Africa a 180-day exception on 11 June 2012. This means sanctions will not apply to South African financial institutions for the 2012 fiscal year. The 180-day exception is renewable if South Africa 'significantly' reduces its oil from Iran during the exception period.
Nonetheless, on 24 July 2012, South Africa's Energy Minister Dipuo Peters stressed the determination to continue South African crude oil imports from Iran, despite the Washington sanctions against Tehran. The reason offered was that a disruption of oil imports from the Islamic Republic would be very costly to the SA economy and would adversely affect the capacity of one of its main refineries, which operates with Iranian crude. Peters went on to say certain decisions by America and Europe cause difficulties for South Africa because the sanctions against Iran are really not 'our decision, but we end up suffering losses due to the measures.' South Africa imports around a quarter of its oil supply from Iran and approximately 80 percent is used to produce gasoline fuel for vehicles.
Another aspect that has caused tension between the two countries is South Africa's stance as one of the 'champions' of the Global South. Comments during former president Thabo Mbeki's administration about US intervention in Iraq have riled Washington and have left a bitter aftertaste in the relationship. China's influence on South Africa and Africa is also a concern to Washington.
South Africa's addition to BRICS has not helped the US-South Africa bilateral situation, as the powerful association amongst emerging powers can wage significant influence on the regional and global stage, possibly negatively impacting on America's global stature. For instance, the five nation bloc went against US sanctions on Iran, opposed regime change in Syria and discussed unseating the US dollar as the world's preferred international currency at the fourth BRICS summit in March 2012.
The Future
Both the US presidential election and the ANC elective conference are taking place at the end of this year. The outcome of these two important events for the future of the bilateral relationship is difficult to predict. For example, historically, the Republican Party is not well liked in South Africa. However, it was George W. Bush, a republican, who founded the President's Emergency Plan for AIDS Relief (PEPFAR) programme, which is now hailed as a large success in US-South Africa relations. The US has contributed over US$3.1 billion dollars to South Africa (2004-2011) in order to fight HIV/AIDS, TB and improve the overall health system.
South African Deputy President Kgalema Motlanthe is a strong supporter of continued partnership on HIV/Aids with America as expressed at the 19th International Aids Conference in Washington, DC on 22-24 July 2012. Motlanthe was also in the US in March 2011 visiting New York, Washington DC and Chicago and appealing to the American people to continue their ties with the people of South Africa.
The power of cultural ties between the two nations cannot be underestimated. The same can be said about the belief in the value of democracy. Both the US and South Africa have a constitutional democracy. This dimension is important and so much so, that Secretary Clinton is expected to give her upcoming South African speech at Constitution Hill in Johannesburg.
While South Africa's inclusion in BRICS and its promotion of the global south will most likely put the US and South Africa at loggerheads on a number of global governance issues in multilateral fora such as the United Nations the bilateral relationship with South Africa is expected to remain strong. They are expected to collaborate on a number of nuclear energy and security issues as both South Africa and the US wish to achieve a successful 2015 NPT Review Conference. US investors, among South Africa's largest portfolio investors, are also expected to carry on investing as long as they continue to achieve high short-term returns on their investments, despite the response by Cosatu and others to the Wal-Mart deal. While this is to be welcomed, the potential in this relationship is vast and more could be done to bolster South African-US relations.