Minister Davies said this during a Speakers' Meeting for the Economic Diplomacy Programme (EDIP) of the South African Institute of International Affairs (SAIIA).
The Speakers' Meeting, held on 4 April 2011, follows a recent dialogue on trade policy reform in South Africa that examined issues around the global trade policy environment, the WTO Doha Development Round, services trade liberalisation from an international, regional, and domestic perspective and how to grow South Africa's exports through the use of industrial development zones (IDZs).
Minister Davies used the opportunity to address a range of trade issues including those that emerged from the trade policy reform dialogue held on 23 March 2011.
In his address, Minister Davies said South Africa has specifically chosen to anchor its external engagements in the context of regional integration. In this regard there is an ongoing process to transform the Southern Africa Customs Union (SACU) from a "relationship of convenience" centred on a revenue pool, to a more active tool of economic development and cooperation.
"Whatever the South African government does [with regards to] trade in Africa, we need to compliment with infrastructure development and cooperation," he said.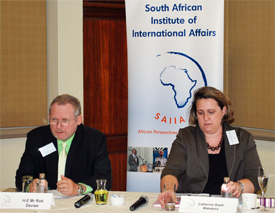 The Trade and Industry minister also explained the current state of the Doha Development Round of negotiations at the World Trade Organization (WTO). He sketched the background to South Africa's current negotiating position that goes back to the Uruguay Round and came into effect just as South Africa made its transition to democracy in the mid-1990's. At that time, Minister Davies explained, South Africa was regarded as a developed country and thus undertook the obligations other developed countries. Although South Africa managed to secure some tariff concessions in later years, the current bound industrial tariffs are still lower thanmost other developing economies.
On the current Doha Development round at the WTO, Minister Davies said the round is developmental in character and has a mandate to reduce or eliminate tariff barriers and non-tariff barriers, particularly on products of export interest to developing countries. Minister Davies reiterated that South Africa's position is not "maximalist" as the country, for example, has not called for the total elimination of trade distorting subsidies in agriculture.
On the future of the Doha round, Minister Davies noted that the 'window of opportunity' to conclude negotiations by the end of 2011 is closing fast. Ambitions to have a revised text by Easter 2011 is also unlikely and fundamental questions should be asked, such as "Is the Doha round dead?"To his own question, the minister outlined two possible outcomes: the Doha round goes nowhere and is abandoned; or in its conclusion, developing countries concede more and get very little in return.
Minister Rob Davies also expanded on South Africa's push toward regional integration through the Tripartite Free Trade Agreement (T-FTA) with the Southern African Development Community (SADC), the East African Community (EAC) and the Common Market for Eastern and Southern Africa (Comesa). With a combined GDP of US$264 billion and a combined population of between 500 and 700 million people, the T-FTA will broaden the regional market. South Africa will host the first T-FTA summit later in 2011 where negotiations may be launched, Minister Davies said.
Download the full report on Trade and Industry Minister Rob Davies address (4 April 2011):
Download-English [.pdf]
Download the presentation by Trade and Industry Minister Rob Davies (4 April 2011):
Download-English [.pdf]
Download the Dialogue on Trade Policy Reform Report (23 March 2011):
Download-English [.pdf]
SAIIA's Economic Diplomacy Programme, with the support of the British High Commission, recently launched a new trade website to assist journalists in better reporting on trade matters.