Pascal Lamy will end his second term in August 2013. The official process to find a replacement will begin with nominations of candidates by member countries of the WTO in December 2012. Informal jockeying for position has already begun.
While it is far too early to make firm predictions, there are some interesting angles to consider in this latest battle for leadership of a major global economic governance institution.
The WTO Director General (DG) is chosen by the members of the organisation. Like all WTO decisions, the aim is to reach a consensus through a process of extensive consultations and negotiation. There is a fall-back voting procedure but this has never been resorted to despite failures with the consensus based system – the most memorable being in 1999 when one term was split between Mike Moore and Supachai Panitchpakdi.
There is no official rotation policy for the position of DG, nonetheless it is widely contended that it is the turn of a developing country candidate. Previous DGs have come from Ireland, Italy, New Zealand, and Thailand, with the current incumbent from France. When Mr Lamy was first elected in 2005, other candidates came from Latin America (Uruguay and Brazil) and Africa (Mauritius). It is widely believed that it is now the turn of a candidate from either of these regions to lead the WTO Secretariat.
Accepting the argument for geographical rotation of the DG position, the next question is whether either Africa or Latin America will be able to rally behind one strong candidate? Early indications suggest not. Mexico is said to be considering nominating Eduardo Perez Motta (former Mexican Ambassador to the WTO and Chairman of the Mexican Federal Competition Commission). How this move would be received by Brazil and other Latin American countries remains to be seen. Mexico is a member of the OECD (where a Mexican heads the Secretariat – Angel Gurria) and is perceived to be closely aligned to the US when it comes to trade and economic policy issues. This may not work in favour of Perez Motta within his region.
The African Union (AU) has already nominated a candidate – Alan Kyerematen, former Trade Minister from Ghana. His candidacy was endorsed by AU Executive Council at their meeting in July 2012 in Addis Ababa. The decision is buried deep in the outcomes of the meeting on page 31 of the Executive Council report, and was not widely publicised. Kyerematen's candidacy was one of many AU agreements on international positions and it has been suggested that the decision did not receive sufficient consideration given its importance. The upcoming AU Trade Ministers meeting, scheduled to be held at the end of this year, will provide an opportunity to review the approach of the group to the election and to discuss strategy if the region is determined to make a serious bid for the DG position.
In addition to Kyerematen, the only other candidate who has already formally declared his intention to run for the WTO DG position is Tim Groser, Trade Minister of New Zealand. While Groser is acknowledged as having good experience and credentials for the position, it would seem unlikely that another New Zealander would be elected at this time – unless other regions do not achieve consensus and it is necessary to find an acceptable compromise candidate.
Given the difficult environment in which the WTO is currently operating, it may be surprising to some that the leadership position could be hotly contested. The WTO will need a strong hand to guide it through the current impasse over the Doha Development Round and to ensure that the organisation remains relevant in a rapidly changing global economy. The new DG should therefore be someone with a clear vision in mind as to what he or she seeks to achieve that the member states can rally around. It is not enough to simply have the right geographic credentials.
What will be SA's approach to the WTO DG race? There has been no formal indication yet but there is no doubt that it will involve careful consideration of a number of potentially competing factors. The AU Executive Council endorsement of a candidate is the first. Given that Nkosazana Dlamini Zuma will be taking over as AU Commission Chair from later this month, having a high profile South African in the AUC chair may mean SA is obliged to actively support the agreed candidacy of Kyerematen.
SA is of course not only a member of the African group but also more recently of the BRICS (Brazil, Russia, India, China and South Africa). BRICS is still exploring its place in the global economic governance space. On trade issues there has been some evidence of cooperation among the countries, including the joint statement made at the G20 Trade Ministers meeting held in Mexico earlier this year. BRICS has however failed to reach agreement on candidatures for international bodies to date. The group missed opportunities to jointly back candidates for the IMF Managing Director and World Bank President positions. At the last BRICS Summit in March 2012 in India, the Heads of State said that the successful candidate for the World Bank position should be "selected through an open and merit-based process". It could reasonably be expected that the group will follow a similar line on the WTO DG election when the BRICS Summit next takes place in Durban in March 2013.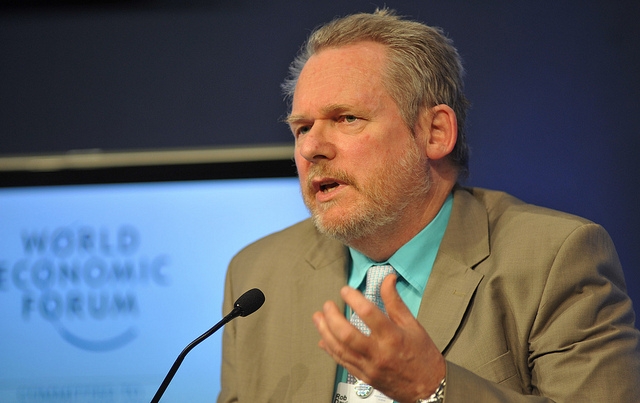 Adding further to the complexities of the SA position are rumours that Trade and Industry Minister Dr Rob Davies could be nominated for the position of WTO DG. This would be difficult in light of the AU nomination of Kyerematen and coming hot on the heels of the strongly contested AU Commission Chair election. Therefore a move by SA to field a candidate for the WTO position could be viewed as hostile by other African countries.
Dr Davies is also well known for being a tough negotiator not only in the WTO context but also with respect to the failed US-SACU Free Trade Agreement negotiations and the ongoing talks with the EU on an Economic Partnership Agreement. There is also concern among these traditional powers about Davies' lack of appetite for trade liberalisation and the emphasis he gives to South-South cooperation. Given the consensus based decision making process in the WTO, it is unlikely that any candidate without the full support of powerful members such as the US and EU will succeed.
It would be naive to consider the WTO DG race in isolation from other Geneva openings coming up in 2013. Supachai Panitchpakdi will end his second term as Secretary-General of the United Nations Conference on Trade and Development (UNCTAD) on 31 August 2013. This position is traditionally held by a developing country representative, appointed by the UN General Assembly on recommendation of the Secretary-General. This opens up possibilities for a candidate from Africa or Latin America. Rob Davies name is also associated with the UNCTAD position. It may be a better fit for the SA Trade Minister given his passion for development and academic background.
However, it would seem unlikely that Africans will get both the WTO and UNCTAD jobs in the same year.Therefore an intra-African clash over nomination to these positions may be unavoidable.