BRICS Guide UPDATE: Summit 2013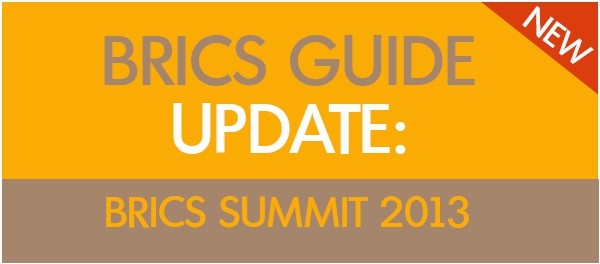 In advance of the 2014 the Brazil, Russia, India, China, South Africa (BRICS) Summit, an update is now available for the highly popular online resource 'BRICS and the New World Order: A Beginners Guide', produced by SAIIA and CUTS International.
South Africa hosted the fifth BRICS Summit in the city of Durban on 27 March 2013. Prior to the Heads of State summit, the BRICS Academic Forum as well as the BRICS Business Forum were likewise hosted in the city of Durban. This Summit was unique for the fact that it was the first time the Summit was hosted in Africa; the Summit further marked the first full hosting cycle by all the BRICS countries, marked the consolidation and institutionalisation of the BRICS group; and was the first time that the Summit was dedicated to a continent (Africa), rather than solely to BRICS issues. For South Africa, it was also an opportunity for the country to prove its worth and value in the group, and it chose to do this through the 'Africa' ticket, bearing in mind that the campaign for membership was premised on the 'South Africa as a gateway to Africa' ticket. It is evident that the BRICS 2013 Summit was very much centred on South Africa and Africa.
The new update looks at the theme for this 2013 Summit, South Africa's role in the BRICS and in Africa, BRICS' Engagement with Africa, and Summit outcomes, which include the BRICS Think-Tanks Council and the BRICS Business Council, the BRICS Leaders-Africa Dialogue Forum Retreat, and the BRICS Development Bank.
Click here to download the update
You can also download the original BRICS Guide, BRICS and the New World Order: A Beginners Guide.