Last week rung in the changes in China's top leadership positions as Xi Jinping replaced Hu Jintao as China's new president. President Xi is also the general secretary of China's Communist Party and chairman of the Central Military Commission. In one of his first visits abroad as head of state, President Xi will be undertaking a state visit to South Africa on the margins of the upcoming BRICS Summit on 26-27 March 2013 in Durban. He will also be visiting Tanzania and the Republic of Congo during his African tour. China's relationship with the African continent has grown significantly under the watch of his two predecessors with total trade between China and Africa topping the $160 billion mark in 2011.
SAIIA's Global Powers and Africa (GPA) programme studies this increasingly complex relationship. In a new podcast, GPA programme head, Dr Chris Alden shares his thoughts on how he sees relations between China and Africa developing with President Xi Jinping at the helm. Click on the video above to watch, or click here to download the audio version.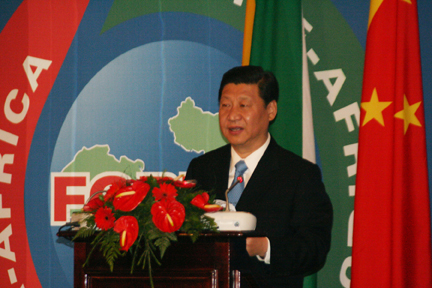 FURTHER READING:
In November 2010, Vice President Xi Jinping, delivered the opening address at a seminar titled 'Celebrating 10 Years of the Forum on China-Africa Cooperation (FOCAC)'. The event was co-hosted by SAIIA and the Chinese Embassy in  South Africa and covered Chinese-African engagements in investment, trade, migration, multi-lateral cooperation and China-South Africa relations.
Recent SAIIA Publications on China's relations with Africa:
The Role of Public Sentiment and Social Media in the Evolving China–Africa Relationship
by Yu-Shan Wu
SAIIA Occasional Paper No 134, January 2013
China's Economic Statecraft and African Mineral Resources: Changing Modes of Engagement
by Ana Cristina Alves
SAIIA Occasional Paper No 131, January 2013
The Rise of China's State-Led Media Dynasty in Africa
by Yu-Shan Wu
SAIIA Occasional Paper 117, June 2012
Chinese Economic and Trade Co-operation Zones in Africa: Facing the Challenges
by Ana Cristina Alves
SAIIA Policy Briefing 51, June 2012
Video © Riona Judge McCormack, Chevon Erasmus-Porter/SAIIA