While the headlines rightly focused on Beijing's offer of US$20 billion in loans to support Africa and the key role that outgoing President Hu Jintao played in fostering the FOCAC agenda, there were other significant aspects of the event that deserve as much attention.
Following in the tradition of previous ministerial meetings, the fifth FOCAC (Forum on China-Africa Cooperation) served as a setting for celebrating the accomplishments of the last three years, a stage for expressing common purpose on a host of international concerns and a platform for establishing priorities for the next three years.  And, finally, the passing of responsibility for organising the next FOCAC ministerial to South Africa promises to provide an unprecedented opportunity for its policy making community to make a distinctive mark on one of the world's largest developing country gatherings.
This year's FOCAC declaration gave considerable weight to international issues, calling for stricter adherence to the UN Charter, for UN Security Council reform to redress the historical injustices experienced by African countries, and a call for more resources to least developed countries in the wake of the fallout from the global financial crisis. Common values are intertwined with practical issues, including robust support for human rights, counter-terrorism and an appeal for stabilisation of food prices. This reflected an increasingly shared assessment of the nature of global politics by FOCAC participants, springing from a common position of African states and China as developing countries of the South.
As significant as this shared perspective is a deepening of the structural engagement between China and Africa, captured by the characterisation of ties as constituting a 'new strategic partnership' (a designation normally reserved for China's bilateral relationships). In this case, there is a great emphasis placed upon encouraging closer integration and technical cooperation at all levels, from state institutions, regional and sub-regional organisations, the private sector and civil society.
This has specific sectoral connotations, for instance there is a commitment to work with sub-regional organisations that would imply – in light of the bevy of loans provided to the East African Community for infrastructure development last year – Chinese-led technical assistance in training, planning and management in expanding regional infrastructure corridors. Chinese assistance focuses on developing agriculture, infrastructure, human resources; encouraging Chinese investment in services, further support for business cooperation zones and zero-tariff ratings on 97% of goods from Africa's less developed countries are amongst the detailed list of initiatives that form the FOCAC Action Plan. There is acknowledgement of the pressing array of security concerns facing their interests and a concomitant need for closer policy coordination on everything from combating piracy to blocking trade in illegal small arms.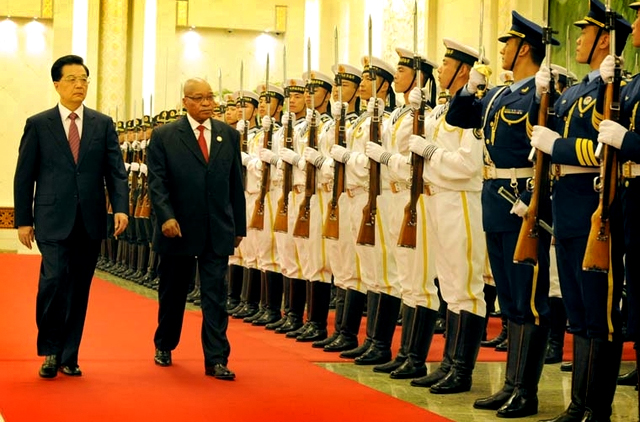 The establishment of a 'China-Africa Cooperative Partnership for Peace and Security' is likely to serve as a setting for further developing discussions on sensitive issues such as norms on intervention. The desire to tell the 'China-Africa story', rather than rely upon external media sources, will be enhanced through the creation of a 'China-Africa Press Exchange Centre' and by intensifying people-to-people exchanges. More generally, given these aspirations for closer structural relations between China and Africa it would seem that the challenge of reconciling public declarations of continued adherence to non-interference alongside joint commitments to more closely integrate institutions and practices across all levels of African governance is now more acute than ever before.
In an expression of the growing confidence felt between African leaders and their Chinese counterparts, contentious issues in the relationship, once studiously avoided at previous FOCAC meetings, were tackled head on. For example, President Hu addressed two longstanding African concerns when he committed China to supporting infrastructure development in line with the continent's regional integration projects as well as promoting greater product beneficiation in the resource sector. And with the unveiling of a Chinese Declaration of Social Responsibility at a parallel business conference, the Chinese were able to demonstrate that they were taking concrete steps to rein in those Chinese businesses utilising poor and illegal practices in Africa. Alongside what is the most detailed and comprehensive FOCAC agenda to date is the notable absence of the kind of numerical targets that characterised past Action Plans, perhaps reflecting the expectations raised and attendant problems of meeting these commitments.
Finally, South Africa's role as host of the upcoming FOCAC in 2015 places it in a unique position to influence the tenor and trajectory of this longstanding collaborative initiative. In fact, South African diplomacy has played a significant part in shaping the FOCAC process since its onset in 2000 through active engagement in the pre-ministerial agenda setting discussions. The enhanced foreign policy assertiveness seen under the presidency of Jacob Zuma which has extended from adopting a new critical voice on Zimbabwe to the precedent-shaking drive for the chair of the African Union will undoubtedly play a part in the content of the next FOCAC.
For instance, the twinning of South Africa's new responsibilities as chair of the African Union with the hosting of FOCAC VI is more likely to produce the much vaunted collective strategic response to China that analysts and policy makers have long been calling for. Equally, Zuma's open declaration in Beijing that China-Africa trade relations need to move beyond 'unsustainability' in their current form to one in which a diversity of finished and unfinished African exports penetrate the Chinese market is a clear indication of the kind of forthright public dialogue we can expect in future.
All this will put the spotlight on South Africa-China bilateral ties as never before, where the comprehensive strategic partnership has resulted in increasing measures of cooperation in areas as diverse as coordinating UN diplomacy, offsetting their trade imbalance, encouraging local beneficiation with Chinese investment and expanding the peaceful use of nuclear energy.  In this regard, the unsettled domestic environment within South Africa where persistent service delivery protests and trade union discontent, some of which takes an anti-China character, has been seen as a major challenge facing the ruling party and may yet find its way into the FOCAC policy process.
Notwithstanding these domestic concerns, the strengthening ties between South Africa and China promises to serve as the bedrock for the joint cooperation that will guide the ever-strengthening relationship and is set to underpin the success of the next FOCAC ministerial.
Related SAIIA publications: